Awakened by Kate Douglas: With only Mandy and Marc left in the apartment and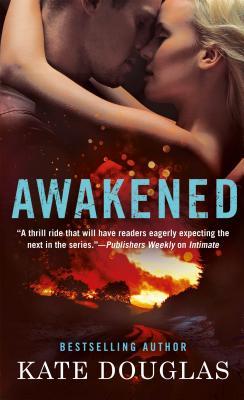 in town after their close friends leave for various trips, the tension between them finally explodes. Both have been desiring the other for ages. Mandy for all the time she saw him on his bike ride by the coffee shop where she worked as a barista, and Marc ever since he first moved in two months ago.
But finally, they cave to their feelings for one another and all should be good in their world. Except, after Marc realized, with the help of Mandy, that a nightmare he'd had for years showed his mother being murdered by his father, they're on a chase to find her body and prove it.
Together, in love, they work towards a future as they solved the past.
He grinned at her, and damn but he had the sexiest smile. "Not the feet on the table, silly. This." He settled close beside her on the well-worn couch and wrapped his arm around her shoulders. "You've gotta have an arm around the girl if you're at the movies."
I can't say this story worked for me. The pair are together immediately, in love immediately, and there is no romantic tension. Perhaps earlier in the series it was there, but not in this story and that was a shame. The story is truly focused on the case surrounding his mother and the danger posed by his father.
It's definitely an interesting issue, one I enjoyed following, I just didn't want it to be the entire story. I certainly liked the community of people. They're a close group and fun to follow.
If you love suspense, Awakened is for you. Douglas is great at creating a suspenseful journey. The third in a series, it can be read as a standalone, but I'd certainly recommend reading the others so you get the joy of seeing their stories complete in this third and final one.
Book Info:

Publication: June 28, 2016 | St. Martin's Paperbacks | Intimate Relations #3
PASSION NEVER SLEEPS.
Small-town barista Mandy Monroe will never forget the first time she saw the man of her dreams. Every morning, this impossibly gorgeous hunk would ride his bike past her coffee shop, fueling her wildest romantic fantasies. But when she learns that her crush is none other than vineyard owner Marc Reed, one of America's hottest young entrepreneurs, Mandy knows her fantasy will never become a reality. That is, until Marc's home burns down and he moves in with her…
As a roommate, Marc is as warm, friendly, and down-to-earth as he is rich, famous, and heartstoppingly handsome. But beneath his laidback exterior beats the heart of a red-blooded man with an uncontrollable urge to take Mandy in his arms and make mad, passionate love to her. Mandy is everything he's ever wanted; she's sweet, smart, funny, and irresistibly sexy. But how he can tell her the truth about his past? How can he explain the nightmares that haunt him every night? And how can he tell Mandy he loves her…without putting her heart, and her life, in danger?