In Christmas with the Best Man (Christmas in Manhattan #5) by Susan Carlisle , Dr Helena Tate wants the fairy tale when it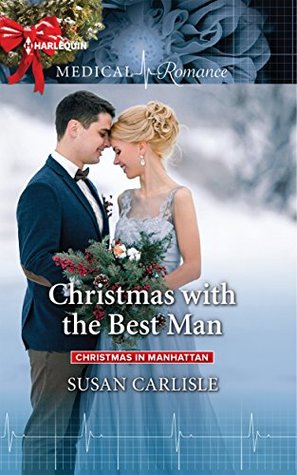 comes to love and happiness, but finding her Mr. Right isn't easy, considering the last man she was with turned out to be a major dud and broke her heart. However, spending time with her colleague Dr. Elijah Davenport may just be what she needs to finally move on, even though she knows better than anyone that Elijah doesn't do relationships. Yet, the more time they spend together indulging in the week long fling they agree to, the more Helena finds herself getting attached to the one man that could never give her the fairy tale she wants. Will she be able to convince Elijah that love is worth taking a risk, or will she walk away before she gets her heart broken again?
"I didn't mean to insult you. It's jut nice to see a female who doesn't eat like a bird. He grinned. "I missed a few of those meals too."
"You've been dating too many women who were hoping to impress you," Helena quipped.
He raised a brow. "Which you aren't trying to do. I had no idea you were paying attention to my social life."
Helena lowered her chin, giving him an indignant look. "I don't. I've heard talk of your exploits."
He chuckled. "Exploits."
"Sounds like it didn't take Helena long to peg you as a commitment-phobe." Penny grinned across the table at him.
This is the fifth book of a six-book series, all books penned by a different author encompassing a different sibling of the Davenport family; siblings that are a tight bunch and have been through so much with the scandal that rocked their family. Yet, no one's had it tougher than Elijah, which made me sympathize with him more and more as this story progressed because he's been keeping a secret of his own that he believes could lose him the trust of his brothers and sisters if they ever knew. The way this story started drew me in immediately, as Helena is all about finding her Mr. Right, and yet, she's drawn to a man that wants nothing to do with relationships. Will Helena be able to show Elijah that forever after is a good thing? Will Elijah finally open up to his siblings about what he's kept from them for years?
As for the dialogue, it kept me entertained from start to finish, as Elijah fights hard to remain indifferent to Helena because his parents marriage didn't set a good example that people are loyal. So, if he doesn't do relationships, then there's no fear of getting hurt like his family did when the scandal hit. Moreover, the heroine is resilient and courageous in giving Elijah a chance, even though their week-long fling that they both agree to could blow up in her face. I also liked that she didn't give up on love and happiness, even though she was hurt badly in the past by someone she was in love with and she thought loved her. Yet, what I liked most of all abut the heroine was her determination to get Elijah to face his past, so they could achieve happy ever after. Because there's no way he'll ever be able to have a lasting relationship, if he doesn't finally open up to his siblings what he's hidden from them for years.
"Do I dare take the chance of being caught in a lip lock with the boss just for a moment of rest?"
His lip curved slightly as he studied her closely. "I think you'll find the kiss worth the danger."
"And what happens if I agree and find myself further enslaved?" Being around Elijah was helping keep her mind sharp. And her heart unsure.
"I guess that's a chance you'll have to take."
While the hero, he finds it tough to deal with the guilt he's felt by not having been honest about something he knew before his family ended up getting hurt and I could understand why he finds it hard to be around his family for the holidays, especially Christmastime. However, in saying that, I liked that he would do anything for his siblings and vice versa, which is proven by what he's doing for his oldest brother while the man is on his honeymoon. Yet, what I liked most of all is that he's willing to accept the advice his siblings give him because love is a risk; one worth fighting for no matter how much of a mess their parents' marriage has become.
="There you have it. You can have happiness or live in misery. That's your choice. I know first-hand what it's like to lose love. When Nina died I thought I'd never love again. Never wanted to. Didn't think it was possible. Then Grace came along. Love is rare. Not something to take for granted. It doesn't come by like a taxi every five minutes. You must catch it when you can. I know which one I would choose."=
Overall, Ms. Carlisle has delivered another really good read for this series where the main characters have wonderful chemistry; the romance is nicely-detailed; and the ending had me loving the lengths the hero goes to in order to get Helena to give him another chance. I also loved how he tells Helena about when he realized he was in love with her. His words are precious and definitely something she needs to hear. I would recommend Christmas with the Best Man by Susan Carlisle, if you enjoy the friends to lovers trope, the opposites attract trope, or books by authors Amy Ruttan, Alison Roberts, Amalie Berlin and Janice Lynn.

Book Info:

Publication: December 1st, 2017 | Harlequin Medical | Christmas in Manhattan #5
A kiss, a fling…a wedding ring?
Dr. Helena Tate still believes in love, despite her past heartbreak, and that one day she'll have a baby of her own. Her gorgeous but brooding colleague Dr. Elijah Davenport, however, is not the man to pin her hopes on. He's no longer interested in long-term relationships.
But being maid of honor and best man at a wedding in snow-covered Central Park heightens their attraction. Soon their Christmas fling becomes so much more! Can Helena tame Manhattan Mercy's playboy—so they both get the love they deserve?