Dangerous Promise by Megan Hart is book one in The Protector series and is set in the future and revolves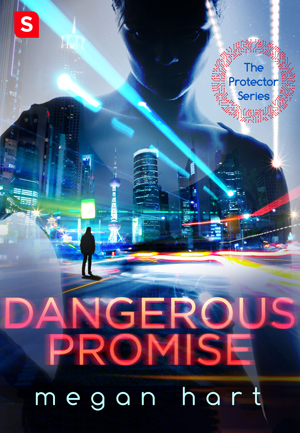 around a female bodyguard with enhanced abilities. The story is unique and truly fascinating.
Nina Bronson is a super soldier. She used to be all human but she was dying and they gave her experimental surgeries to make her superhuman. She works for the private sector and takes on missions where she protects people. Usually, billionaires with a lot of money and with many enemies. She's good at what she does. The best of the best.
Ewan Donahue is a handsome billionaire, set on destroying people like Nina. But when he keeps getting death threats, he has to rely on Nina for around the clock protection. Nina has no intention of letting Ewan out of her sight and will protect him with her life, whether he likes it or not.
Ewan and Nina don't start off as friends, but eventually, their close proximity to each other brings them closer.
"Wow," she said finally, surprised to find she had a voice.
"High five. That was beyond the telling."
Ewan burst into laughter and still inside her, lifted off her enough to slap her palm with his. "I've never been high-fived after sex before."
"When it's that good," Nina said, "it's worth a high five. Hell, I think maybe you deserve a trophy."
Ewan is responsible for Nina and the others with enhanced abilities. He just hasn't told Nina yet. He essentially created her and without his upgrades, he can break her. But when Nina finds out about Ewan's betrayal, will everything still be the same?
The romance is slow burning and it does end with a cliffy. If there is a happy ending on the horizon, it's not in this book. Maybe in the next book? Either way, I'm looking forward to how this all plays out for Ewan and Nina. If you enjoy sci-fi romance, this might be the story for you. Lots of futuristic technology, politics, and action to keep anyone interested!

Book Info:

Publication: January 2nd 2018 | Swerve | The Protector #1
A female bodyguard with enhanced abilities. A billionaire playboy committed to destroying people like her. A romance they didn't expect…
Dive into the first book in the fantastic new Protector series set in the near future from New York Times bestselling author Megan Hart!
Nina Bronson used to be all human — until the experimental surgeries and internal technology that saved her life and enhanced her as a soldier also forced her to leave the army for private service. Now she and her peers are facing slow, painful deaths unless their technology is upgraded, and the one man keeping those upgrades illegal and unavailable is an obnoxious billionaire. A man too gorgeous for his own good.
A man she's supposed to guard with her life.
Ewan Donahue is the public voice speaking out against the enhancement procedures of injured soldiers. But when his lobbying leads to death threats, he needs someone to protect him around the clock. He doesn't want to rely on an enhanced soldier—Nina's tech goes against everything he stands for. But he really doesn't want her to be beautiful like she is. Doesn't want her to suffer like she will.
Doesn't want to succumb to the searing desire he feels for her.
As a series of attacks on his life send them to a remote cabin, their close proximity brings them together in ways they never imagined. They know they must prevent the need simmering between them, resist each other at all costs. But when tensions are high and danger is close, passion burns hottest of all…