Everything at Last by Kimberly Lang: Molly owns the only coffee shop in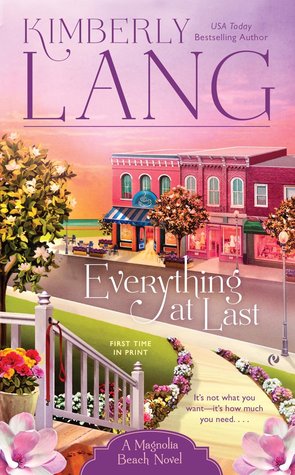 town, so she's used to hearing all of the local gossip. She chooses to live a rather quiet, private life after she left the small town where she grew up. It's very clear that Molly is trying to move on and put her past behind her, including her family.
Tate is the town vet and former partner-in-crime to his best friend Helena. With two sisters, Tate is used to running to the rescue. He needs to be needed, which is why Helena decides that Tate must help Molly when she is unceremoniously dumped with running the Children's Fair in the Magnolia Beach's annual Memorial Day event.
"I'm not. I'm here in your hour of need. But only this particular hour of need. No way am I getting hip deep in this."
Doing her best to flutter her eyelashes and look pitiful, she said, "I'm still damseling and distressing, though."
The last thing Tate wants is to get roped into helping with the fair; however, he loves that Molly not only wanted his assistance, but was willing to listen to his advice. It's a nice change since his sisters and Helena don't need or refuse to let him help. Molly appreciates his help, but she's nervous to have this much responsibility with no idea of what the fair is like.
After a badly handled matchmaking attempt, Molly and Tate realize that there just might be something between them. The fair gives them an excuse to spend more time together. Molly hasn't dated anyone since arriving in town, but Tate makes her rethink her stance on relationships. He makes her happy in a way that she hasn't been in a very long time.
"Of course. What do you think I've been saying?"
"A lot of stuff, but not that."
"Well, it was implied."
She shook her head. "That's not the kind of thing it's safe for someone to try to infer. It needs to be spelled out."
Everything at Last is a fun, sweet, humorous, and highly enjoyable read. Kimberly Lang writes an engaging contemporary, small town romance with the amusing meddling from a well-intentioned friend. Ms. Lang provides a unique twist on the reasons for Molly's secret and reticence to talk about her past. Fans of Jill Shalvis, Susan Mallery, and Kristan Hannah will enjoy Everything at Last.
Book Info:

Publication:January 5th 2016 | Signet | Magnolia Beach #2
In the second Magnolia Beach romance by USA Today bestselling author Kimberly Lang, a small Alabama waterfront town is the perfect place to start over…
At first sight, Molly Richards knew Magnolia Beach, Alabama, was the perfect place to escape her unhappy life. And though she's proud of the small coffee shop she's opened, something is missing. But she won't let herself be burned by love—again.
Veterinarian Tate Harris finds the local dating scene awkward, since he's known most of the eligible ladies his whole life. But he's finding it hard to resist the unassuming charm of the sweet-faced owner of Latte Dah. And when a late-night pet emergency finds Tate at Molly's house, that fascination turns into a potent mutual attraction.
But just as their relationship begins to take off, Molly's haunted past returns. Fortunately, Tate is determined to help Molly fight for the life she's been wishing for…