In Fighting for Redemption (The Elite #4) by Nicole Flockton, Brett Hunter is in need of serious help to clean up his image after performing badly at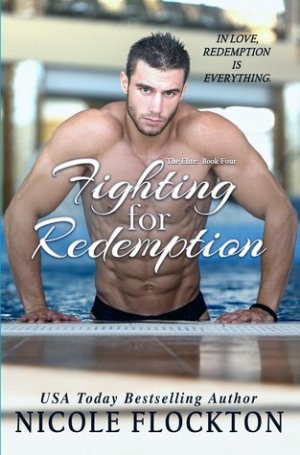 the Rio Olympics, especially with his sponsors threatening to dump him. However, working alongside Cassandra Fielder isn't easy since he has a secret he doesn't want her to know. Can they work together to make the public think better of Brett, or will their secrets coming to light keep them from ever achieving their happy ever after?
"I think I've found the perfect vehicle that will showcase to the public there is more to you than what they think they know. This promotion will allow us to piggyback onto other opportunities which, I believe, will help transform the public's perception of you."
I have been charmed by every single book of this series, so I'm sad to see it end with this wonderful book, which I believe is the best of Ms. Flockton's Elite stories. The way this story started drew me into this book immediately, as Cassandra has a problem. She has a tough task ahead of her, if she takes on Brett's case, as he has a bad boy reputation where trouble follows him around everywhere. How is she possibly going to improve his image? What will it take to make the public's perception of him better? However, what I liked most about the beginning of this story is the moment that the hero and heroine came face-to-face for the first time, because it isn't the best of meetings and it seems the heroine will have her work cut out for her.
The dialogue was well-written, intense and heartbreaking due to the hero's back story and I could understand why redemption was important to him. He's been seeking it for years after what happened to his best friend, which is proven by what he's done with himself and everything he's been determined to achieve over the years since the tragedy. Will Cassandra be able to help him clean up his image? Will Brett be able to protect the one person he's been determined to protect for years? Will he open up to Cassandra about his past? Moreover, Brett is kind and caring towards the people he's helping when it comes to the solution Cassandra has presented him with to clean up his image. The way he is, it's adorable and sweet and shows how determined Brett is to turns things around.
"You don't need to change on my account. I have to say my shirt looks good on you. Even if it's a little worse for wear."
Cassandra looked down at his wrecked shirt and then back to him. "I guess I owe you a new shirt."
"Nah, it wasn't one of my favorites."
As for the heroine, Cassandra was just as engaging as Brett. She doesn't think much of athletes because of her ex, and I could understand why she was trying to keep from getting involved with Brett. What if she falls for another bad boy and ends up getting hurt all over again? Furthermore, she's also smart, hard-working and I liked how determined she was to help Brett, especially in the moment where she told him something she wasn't supposed to. But what I liked most about the heroine is how understanding she was of Brett's past.
Overall, Ms. Flockton has penned a delightful yet heartfelt read in this book, where the chemistry and romance was fierce and explosive and went a long way to helping both the hero and heroine heal from their pasts. The way this story ended had me cheering for this couple's happy ever after, even though Brett assumes the worst at first. Luckily though, Cassandra is good for Brett. She managed to make him realize that he's worthy of love and happiness. I would recommend Fighting for Redemption by Nicole Flockton, if you enjoy books about a hero seeking redemption or books by authors Delancey Stewart, Cecy Robson, Mari Carr or Kate Davies.

Book Info:

Publication: May 23rd, 2017 | Published – Nicole Flockton | The Elite #4
Bad Boy Brett Hunter is on a downward spiral after a poor performance at the Rio Olympic Games. His sponsors are threatening to drop him and trouble seems to find him wherever he goes. He's comfortable with his bad boy image, it's what he deserves after what he's done. The last thing he wants to do is change the public's perception of him, but his agent tells him, change his image or lose his sponsors.
Cassandra Fielder doesn't like working with diva athletes – she's been there, done that and has the divorce decree to go with it. When she finds out her new client is Olympian Brett Hunter, for the first time in her career she wants to tell her boss no, unfortunately, saying no isn't an option. What she isn't prepared for is the unexpected attraction flaring between them. She has no plans to play on that particular field again. As she spends time with Brett, she begins to see there is more to him than what he shows the public. But why is he trying so hard to hang on to his bad boy image?
Being with Cassandra has Brett facing old foes and a past he is desperately trying to forget. When the truth comes out, a fledging love is put to the test. Can it survive or has trust been irrevocably shattered?