In Heartland (Singing to the Heart #3) by Sara Walter Ellwood, if anything could finally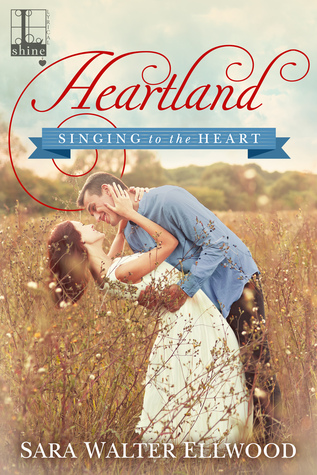 help Emily Kendall clear up her act and kick her addiction for drugs and alcohol, it's finding out she's pregnant. Finally out of rehab, she's decided that the best thing for her is to head home and spend time with her parents. She's not looking to get involved with another man anytime soon, yet Sheriff EJ Cowley manages to put a chink in her plans.
He reached for the jeans, but she rested her hand over his. The contact sent a warm liquid sensation through her palm. "Why are you doing this?"
"Because I don't give a damn if people gossip about me. I'm used to it." He pulled the stack of pants out from under her hand. "Besides, if they're talking about me buying women's pants for the mission, they aren't criticizing me for how I'm doing my job."
Lately, I've been reading a lot more books than I normally do, which encompass the friends to lovers trope, and I've got to admit that this trope is becoming one that I am beginning to like more and more. Right from the beginning, this story was powerful, emotional and absolutely captivating. Not only because EJ and Emily haven't seen each other in a while, and the way they come face-to-face again after so many years leaves Emily a little ticked off at EJ, but because there is a dash of suspense due to her ex step-father; an evil man that is determined to exact revenge on Emily.
The main characters back stories and the trouble Emily faces when it comes to her ex step-father definitely make this story intense. Yet, there is also some playful banter between Emily and EJ that had me smiling. It's hard for EJ to stop comparing Emily's situation with that of his ex-wife; a woman that had everything to live for, and yet, she took her own life due to addiction. But I liked that Emily showed that she was nothing like his ex. That she's strong enough to kick her addiction for good, even when there are moments when she wishes for drugs or alcohol to help her forget her troubles.
The color was coming back into his cheeks, and he flashed his gorgeous, cocky-as-hell grin. "I came in my official rig."
She shrugged in an effort to hide the shiver coursing through her at the sudden desire heating her insides. "As long as the handcuffs are fuzzy, I'm game."
He chuckled as he took her hand again. "Fuzzy handcuffs, eh? I'll have to see what I can do about that."
I really liked Emily and EJ, as well as the secondary characters. Emily's parents are very supportive of her returning home to figure out what the future holds for her now. Will she give up singing? If she does, are there any other avenues of music she can pursue to keep her involved in the industry? They're also very protective of her, especially when they learn that her ex-stepfather is coming after her. They respect her decision of how she's going to deal with him, even if they think her plan is the wrong choice.
Emily is strong, brave, and determined to change her life around. She makes decisions that are best for her and her unborn child, which is what I liked about the heroine. Because she needed to get as far away from her husband as possible, so he wouldn't keep dragging her down with him until all she craved was drugs and alcohol. Since that's where her life seemed to be headed, if she didn't get away from him. However, she's also a bit reckless when it comes to dealing with Mike, her ex-stepfather. Antagonizing him probably wasn't the best, especially considering what happens to one of her closest friends. But, at the same time, it seemed like her only option. If she was to draw him into the open so the police could take him down.
While EJ, he doesn't know whether getting involved with Emily is the right thing to do, especially considering she's a reformed addict and in a similar situation as his late wife, except there's one difference between her and Emily. The heroine wants her child and is doing everything to stay clean. Even when things reach a breaking point for Emily and it would be easy to fall back on old habits. He's also very protective of Emily, and would do anything to make her safe from the monster that is out to hurt her. The only thing is, he's worried that he won't be able to, especially after what happened when he was an Army Ranger. But what I liked most about EJ was how good of a father he was. His son, Austin, means the world to him, and he proves his love for the cute kid over and over again.
Overall, Ms. Ellwood has penned another wonderful addition to this series where the hot sex scenes certainly heated up the pages and illustrated the strong chemistry these two had. Emily did her best to fight the chemistry bouncing between them, because of her pregnancy and the fact that her life is a mess at the moment, but it was inevitable that they'd end up together. The story ended wonderfully, despite the horrible situation that Emily went through at the hands of her ex-stepfather. He was a despicable excuse for a human being, and deserved what happened to him. The words to the song Emily was crafting summed up her and EJ's friendship/relationship over the years, and definitely proves she still has what it takes when it comes to music. I would recommend Heartland by Sara Walter Ellwood, if you've read the other books of this series (which are just as good as this one), or enjoy the friends to lovers trope.
Book Info:

Publication: June 21st, 2016 | Lyrical Shine | Singing to the Heart #3
Sex, drugs, and country music. That was the lifestyle for Emily Kendall, a Texas girl who hit it big on the country music charts–until she found herself pregnant and battling addiction. Now out of rehab and seeking a new life for herself and her unborn child, Emily returns to her hometown of McAllister. The last thing she's looking for is trouble, no matter how good it looks in uniform. . .
A widower, single father, and former Army Ranger struggling with PTSD, Sheriff EJ Cowley has his own demons to battle while keeping folks safe. The last thing he needs is a troubled celebrity speeding through town in her bright red Mazerati. But when someone from Emily's past threatens her safety and the peace of McAllister, EJ has no choice but to protect her. And soon both will learn there's more to the other than meets the eye. And that wounded hearts can love again. . .