In Just One Kiss (Fool's Gold #11) by Susan Mallery, Patience McGraw had a serious crush on Justice Garrett when she was fourteen. He was her best friend in school, along with Ford Hendrix, and they were inseparable until the night he and his uncle mysteriously vanished. She has worried and wondered about Justice for almost fifteen years with no resolution. Patience still lives in Fool's Gold, a single mom to her ten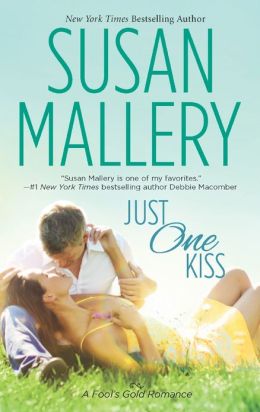 year old daughter Lillie and she takes care of her mother who is battling MS. Over the years her personal life has certainly taken a backseat, but after struggling through a divorce just after Lillie was born, she wasn't quite ready to date again.
"Patience had a feeling she looked as shocked as she felt. How could he have left like that? He'd kissed her. Passionately. Didn't he want to do something else? Something more? Something that required them getting naked and sweaty?"
Patience is overwhelmed when Justice reappears in Fool's Gold to open a training facility for security experts. She can't believe it when Justice explains that he had been in the witness protection program while living there and they had to move him that night when his father was spotted in the area. She's relieved to finally know what happened after all these years and surprised when her old feelings for him quickly resurface as if no time has passed. Justice makes it clear that although he still cares deeply for her, he's worried he won't be good for her or Lillie after what he's been through in his life and especially in the army. Patience worries that she'll fall for him and he will end up being one more man to walk out of her life but decides if he's willing to try then there's no way she can refuse him.
"Fourteen year old Patience had made his voice crack. Grown up Patience was physically beautiful, emotionally sweet and intellectually challenging. A lethal combination."
Justice Garrett can't believe he let himself decide to come back to Fool's Gold to open his business. The last thing he should do is track down Patience when he arrives in town, but it's the only thing he can think about. He's thought of her frequently over the years. Memories of their wonderful times together have kept him sane through some tough situations. Justice is pleased, maybe selfishly so, that she's still living here and that she's unattached. After fighting his demons for so many years, it feels incredible to be in the one place he felt like a normal kid. Where he didn't worry so much about his psychopathic father. He wants very badly to build a life with Patience and Lillie but he's still unsure if he deserves the happiness. He feels as though the darkness he's dealt with will seep into their lives as well. Will his love for her be enough to help him overcome his past?
Susan Mallery is one of my favorite contemporary romance authors. I keep coming back to Fool's Gold again and again to see who's falling in or out of love and who is new in town. Patience and Justice's romance was a long time in the making, considering they met in high school and this story takes place about fifteen years later. I loved that Susan included a prologue to give us a glimpse into their teenage lives, with the days leading up to Justice disappearing. I definitely recommend checking out this cute, charming, friends-to-lovers romance. And feel assured that even though this is book eleven in the series, you can still read any of the books independently and be able to follow along perfectly.
Book Info:

Release date: May 28, 2013 | Series: Hqn
He won't hesitate to put his life on the line…but will he ever risk his heart?
Falling for Justice Garrett was a high point in Patience McGraw's otherwise awkward adolescence. Even after he disappeared, Patience never forgot the boy who captured her heart. Now he's back in Fool's Gold, California, and her passion for him is as strong as ever. But how can she trust that he won't abandon her again—and her daughter, too?When bodyguard Justice Garrett was a young man, witness protection brought him to this idyllic town and he never forgot its warmth, or the sweet beauty of his childhood friend. He's returned to open a defense academy, and the Patience he once knew is all grown up. He can't resist her smile, or her curves. But Justice's past doesn't make him husband, or father, material.
Patience and Justice think they'll succumb to just one kiss… Then one more… Okay, just one night together. But they might learn that falling in love is beyond anyone's control.