Lie in the Moment by Nicole Camden: Maura has been chasing the man who killed her brother and his wife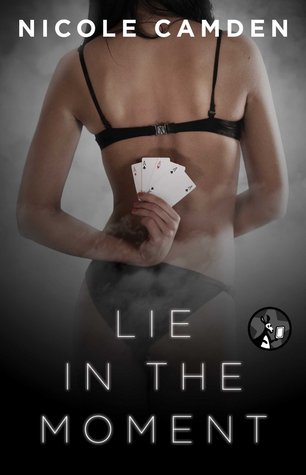 for ten years, her only lead his cousin, Roland. The man with a shady past and a zipped mouth. Roland has been looking for his cousin, but he refuses to give Maura any help, feeling it's his duty to bring Keenan in. But when Maura finally has something Roland wants, letters Keenan's sent over the years, they might just have a trade on their hands.
The attraction has always been between the two, but as they work closer together the passion explodes. Neither one can trust the other, but they can't resist either. As Keenan's antics worsen, drastic measures need to be taken.
He heard a muffled noise and turned to find that Maura had followed him into the kitchen. She had taken off her blazer and pants, leaving her in her blouse, which was a vibrant blue color that complemented her hair, the shirt hanging to mid-thigh. She was barefoot, her toes painted with glittery nail blue polish.
She has freckles on her lower thighs, where the sun probably kisses them in the summer.
"You're staring," she said softly, a tiny smile of satisfaction curling the corner of her lip.
"I like looking at beautiful things," he said simply.
I absolutely loved Lie in the Moment. I haven't read the two previous, and you don't need to, but I definitely plan on buying them now.
Roland is amazing. He's strong, intelligent, super into our heroine, and he's got the darkness we just love. One of my favorite things about his character though, is that he doesn't dwell in the darkness. He feels guilt and responsibility, but it doesn't overpower the story like so many others.
Maura, too, is amazing. Detective on the force, she is most definitely badass, tenacious, and of course, super into our hero. While both characters are less emotional than other romances, I ended up preferring it because it was so them. The love happened slowly and over time without much thought on the process, and it just fit really well. The only thing is that it was the tiniest bit anticlimactic when the climax occurred, partially because the story was quite focused in capturing Keenan.
I highly recommend Lie in the Moment by Nicole Camden. It's fast paced, interesting, with kickass characters you're going to want to stay with.
Book Info:

Publication: August 10, 2015 | Pocket Star | The Billionaire Tricksters of Boston #3
In the third book in the Billionaire Tricksters of Boston series, erotic romance sensation Nicole Camden explores the alluring stories of mysterious magicians and ladies whose desires tempt them ever deeper into a world they don't quite understand…
Born into a family of con artists and thieves, billionaire Roland Webster thinks he's successfully rid himself of the past. Building his business into a multibillion dollar empire with his two best friends, he's overcome the legacy of a childhood spent practicing deception…or so he thought.
Boston detective Maura O'Halloran is out to catch the man that killed her brother and his wife, leaving her their baby daughter to raise. It's been ten years, but the killer has resurfaced in Boston. Her best chance of catching him? One Roland Webster, distractingly gorgeous and hiding something.
With Roland out to prove himself and Maura out to win at all costs, can they take time from their mission to see what's right beneath their noses?