In Midnight Action (Killer Instincts #5) by Elle Kennedy, Jim is an ex army ranger, now mercenary. Years ago he met Noelle as part of an assignment. Unexpectedly there was a lot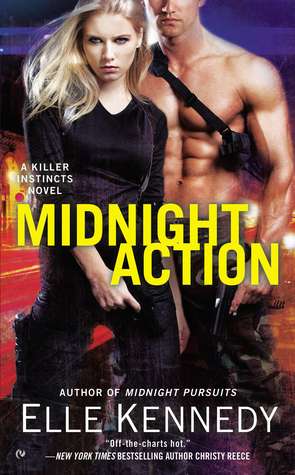 of chemistry and feeling between them…but Jim was still on the job, and he was not at all who Noelle thought he was. When her heart was broken by Jim to get to her father, Noelle vowed revenge on the man who broke part of her…even though to Jim Noelle turned out to be way more than a job. He cared for and wanted more with her than he should have. That time is lost though, and as the years pass, Noelle's walls around her heart only get stronger.
Noelle tells herself Jim means nothing to her, but the chemistry between them is scorching, even if they claim to not like each other. When Noelle, an assassin, is hired for a hit on Jim, she can't not warn him. Soon they are reluctantly working together to find the source of the hit. While on the surface there is no love lost between them, deeper glimpses into both Noelle and Jim show each still has feelings simmering for the other. As they seek the truth before a hit can be made on Jim, the truths of the past can no longer be avoided. Neither can the heat they generate together. Complicated and full of emotion, can they finally heal from the past? And what will the future look like?
Midnight Action is fast paced, intriguing and action packed. With these strong characters and what they do for a living, Elle really makes you think … does stuff like this happen? Whether or not it does, you realize that there are all kinds of things that happen in the world that we know nothing about. Realistic or not, this romantic suspense will take you for a wild ride!
Jim and Noelle are both very interesting characters who drew me into their world easily. Both of them have pasts that have shaped who they are today. Noelle was a bit harder to figure out, she kept me very entranced, wondering exactly why she ended up being an assassin for hire. I would have liked to have been able to understand this part of her a lot more…but I didn't get this. What I did get was a sense of a strong woman who has suffered, and as time passed, she has kept herself emotionally distant from everyone. Jim is the one person who can chip away at her armor, but will she let him all the way in? I couldn't wait to see how Noelle dealt with her hot and cold relationship with Jim. Jim has moved on with life and work. He's had to. But Noelle still holds a strong place in his heart. As a reader I could understand how things happened, but from their point of view I could also understand the hurt and sense of betrayal. I like how Elle was able to make me see this, how she was able to take me into their heads.
I also liked how Elle mixed the past and present, bringing in well timed pieces of both of their pasts that helped shape the story. The plot of Midnight Action is intense with great build up.
There are a lot of secondary characters who help shape and round out the plot…some of whom are a surprise! Many are from previous Killer Instincts books. While I think Midnight Action can be read as a stand alone, I would recommend reading the other books also if you want to find out more about some of these secondary characters.
Midnight Action brings an unexpected second chance at love along with mystery and suspense that will keep you on the edge of your seat. I'd recommend Midnight Action to any romantic suspense reader looking for a heated read!
Book Info:

Published November 4th 2014 by Signet | (Killer Instincts #5)
Ex–army ranger Jim Morgan leads a team of elite mercenaries, but eighteen years ago in Paris, he was part of a black ops unit whose mission was to hunt down a rogue operative. In order to trap the criminal, Jim seduced Noelle, the man's daughter—a ruthless act that cost him the love of his life and turned her into a mortal enemy. Now he can't trust her, but he still desires her. He also needs her help….
Older, wiser, and unwilling to play the fool again, Noelle runs a group of highly skilled assassins. And she's just been offered the hit of the century: Eliminate Jim Morgan. History gives them no reason to trust each other, but with their lives in jeopardy at the hands of a common enemy, the lines between love and hate are soon blurred. Now Noelle and Jim must face the past if they want to have a future—let alone a future together.