In One Week with the Best Man(Brides and Belles #3) by Andrea Laurence, if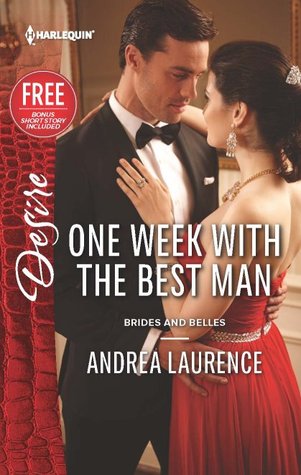 there's one place in the world Gretchen McAlister dreams of travelling to, it is Italy, except she doesn't have the money to afford such a trip, and couldn't possibly take the time off work. However, when asked to find a date for the best man, of the wedding she and her friends are organizing, she reluctantly accepts to be his date. Because it'll get her one step closer to achieving her dream.Yet, she's not sure she can convince anyone they're a real couple. For starters, she's so not his type and secondly, she's extremely awkward with men.
I absolutely loved this book from the start. It was captivating, fast-paced, and the idea of a shy, inexperienced heroine accepting to be the date, of a celebrity hero for a week delivered huge obstacles to overcome. Such as the moment where the heroine opens up
about her inexperience with the opposite sex, the secret the hero is hiding becoming exposed, and the moment he realizes he's blamed the wrong person for exposing his secret. Obstacles that provided quite emotional blows for both main characters, but even more so, for the heroine because it seemed she wouldn't expose her secret until she believed the man she'd tell it to was the right man to tell.
"Come on in, Gretchen." He shut the door behind them and gestured for her to take a seat in the living room of his suite. "Can I get you something to drink?"
"Something alcoholic would make all this easier," she muttered under her breath.
Julian's lips twisted in amusement as he went to the minibar. That wasn't a bad idea to help break the ice. At least for her.
As for the dialogue, it was quite compelling from the moment they meet as Julian does all he can to make the best of an awkward situation. When he realizes how differently Gretchen reacts in his presence, compared to the many women that are fans of his celebrity status. He's really good for Gretchen, and wins her over with his charm. The scene where he tells her secrets about the women of Hollywood certainly helps make her more comfortable with their arrangement. Helps make her see that she has every bit as much right as those women to be with him. However, it was also very intense in the aftermath of the obstacles they face, and I was really pulled into the story by the emotions and reactions, of both characters in these moments as they were monumental in their growing relationship. From the heroine's point of view, it was harder not to be affected because she's never trusted a man as much as she does Julian.
I really liked both characters, but Gretchen surprised me. She starts out really awkward and skittish around Julian at first, but the scene where Julian tells her he can teach her some tricks, she really begins to grow as a character. Begins to find some confidence in herself to help convince everyone they're a real couple, which was one of the things I liked the most about her. The other was the palpable enjoyment she had for her job. While the hero, his honesty was endearing. How he opens himself up to Gretchen to make her as comfortable as possible in his presence made me like him even more. As the heroine needed a man she could trust with her secret; one that hopefully wouldn't run away when he learned the truth.
"Naughty," he whispered as they started toward the bedroom.
"What?" She didn't know what he was talking about. "You never put your panties back on."
Gretchen straightened up in his arms, her eyes wide as she gasped. "Oh, my God. I left them on the floor of the ballroom."
Julian chuckled and shook his head, continuing into the bedroom. "Someone's going to get a surprise first thing in the morning."
Their banter makes for strong chemistry between them, which spills over onto the pages in very sensual sex scenes. This scene where Julian takes Gretchen back to his hotel was wonderful. For the first time, a man proves to Gretchen how special she truly is. Proves that she's just as beautiful as any other woman, which is what she needs as she has some serious self-esteem issues that have kept her from finding love. It's also a pivotal moment in their growing relationship, as Julian realizes he can trust Gretchen with his family secret. Just as she trusted him with her secret, though her knowing the truth of his comes with conditions.
Overall, this story was a very entertaining read where the secondary characters definitely help the story along. Without her friends manipulating her, I doubt Gretchen would have been brave enough to accept being Julian's date. It also ended well as Julian had some groveling to do to win Gretchen back. I would recommend One Week with the Best Man by Andrea Laurence if you enjoy the fake relationship trope.
Book Info:

Publication: November 3rd, 2015 | Harlequin Desire | Brides & Belles #3
What happens when a fake wedding date gets all too real?
Pretend to be famous bachelor Julian Cooper's girlfriend? Some women might be thrilled with the request—not Gretchen McAlister. Her job is planning weddings, not being the best man's date. But after Julian's latest celebrity breakup, "ordinary" Gretchen is the perfect PR ploy.
Julian is against the whole plan…until he meets Gretchen. Honest and beautiful—even beneath her fancy makeover—his new "girlfriend" makes him want something more, something real…