In Pregnant with the Boss's Baby by Sue MacKay , Tamara Washington's life was turned upside down when her ex stole everything from her. So, even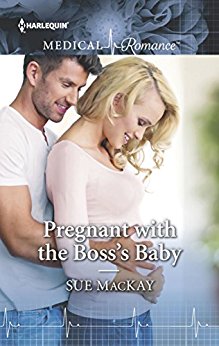 though she finds it hard to trust, she ends up spending the most incredible night with her boss where soon after she discovers she's pregnant. Telling Sam the good news is paramount, but will he want to do what's right for their child, or will he abandon her like so many others in her life including her mother?
"There's nothing fair about any of this," she retorted.
He couldn't agree more. But what he said was, "You have no idea."
"About what?" she asked in a rare belligerent tone.
"I can't have children."
"Wrong. You are having one next year. In April, I reckon. It's no one else's."
Ms. MacKay has become one of my go-to authors for Harlequin Medicals, and I absolutely enjoyed this story due to the main characters back stories and their fears of becoming parents with Tamara not having a tight relationship with her only living parent and Conor believing something will happen to him because of his health problems. The way this story started had me liking the main characters immediately, as they're both very dedicated to their careers. Tamara had big dreams of going back to school and becoming a doctor, but now she has some big decisions to make after becoming pregnant. Will Sam support the decisions she makes?
As for the main characters, both have fairly intense back stories and I couldn't help but sympathize with the hero and heroine. After what her ex did, Tamara finds it very hard to trust and Conor doesn't make things easy for her with his indecisiveness of he-wants-her-he-wants-her-not. Will she give him a chance to prove he can be there for her and their child? Will Conor realize that Tamara is his Ms. Right before it's too late? Moreover, the heroine is resilient, courageous and a total fighter, which is proven after all that she's been through and overcome after the disaster of what her ex did. She doesn't have a close relationship with her mother, and I could understand why she'd want to have one now that she's pregnant. Will her efforts to get through to the woman that abandoned her because they lost all the family money work?
"Are all Irish men so charming?"
The off-the-shoulder little black dress she wore was sensational. "You're like another Tamara Washington. Just as beautiful and lovely with an added does of style thrown in."
The pink darkened to red. "I shudder when I think how I let myself go."
Her hand was warm under his. "Your shapely body and stunning looks weren't all that attracted me."
While Conor, he's had it tough losing his brother and father and being fearful of losing his own life after what happened to his dad since Conor has the same medical condition that killed him. Seriously, I could sympathize with why he doesn't get close enough with a woman to fall in love, but at the same time, he needed to stop running and realize that love is worth fighting for because he doesn't know what tomorrow could bring; and instead of looking for the negatives, look for the positives. Aren't Tamara and his child worth the risk?
Overall, Ms. MacKay has penned a really good read in this book where the chemistry was wonderful and I liked that in the end Conor made the right decision when it came to Tamara, because he doesn't want to hurt the heroine anymore than he does. However, it was the epilogue that left me with a smile on my face because Tamara finally has someone she can trust besides her hoot of a best friend, Kelli; a delightful secondary character that convinces the heroine to go all in with Conor and fight for their love towards the end. Moreover, she has the family she always wished she had before her mother abandoned her. I would recommend Pregnant with the Boss's Baby by Sue MacKay, if you enjoy the surprise pregnancy trope, the friends to lovers trope, or books by authors Leah Martyn, Caroline Anderson or Scarlet Wilson.
Book Info:

Publication: May 23rd, 2017 | Harlequin Medical |
One unexpected night…
Emergency nurse Tamara Washington had everything—until her life was publically destroyed by her ex. She's hidden herself away ever since, focusing only on her patients. Then one hot night with her boss, Dr Conor Maguire, upends her world again.
With consequences!
Now Tamara is pregnant and Conor faces being a father, something he never anticipated. But if they face their fears together, maybe they could become a family, because with Tamara in his arms, anything seems possible…