Through Your Eyes by Shannyn Schroeder: Sent off to her cousins in Chicago by her longtime boyfriend for a long break, Deirdre is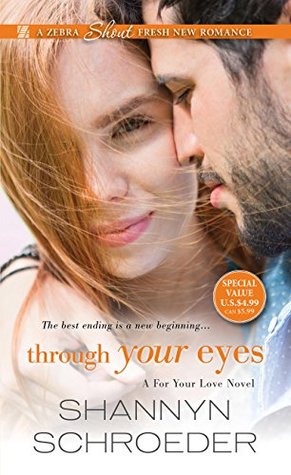 both happy to get away from her overly crowded family and their pub which she's expected to work and die in and worried about the status of her relationship. Perhaps not the most passionate romance, but one everyone, including herself, expects to be for life. Except, what she finds in Chicago may blast her expectations right out of the water.
Last time Deirdre was in town Tommy missed his chance to ask her out, so he's not letting her go this time. Especially when he learns her boyfriend is giving her free license to experience a bit more out of life, including dating someone else.
When reserved and quiet meets tattooed and wild, unexpected sparks fly. But Deirdre isn't in Chicago to stay as she has a family of expectations back home.
I always like an opposites attract romance and Tommy and Deirdre were certainly opposites. But otherwise, I just can't say I highly enjoyed Through Your Eyes. While I appreciated how Deirdre grew and took control of her life, overall both she and Tommy felt lifeless. They just didn't spark my attention and I never felt many sparks between them either.
This is the second in the For Your Love book I've read and I still can't get over that these grown men still live like frat brothers in their dad's basement. Even as the romance advanced and they should definitely have moved out, they didn't. It just feels far too young and immature for me to fully like. I want more drive from both my hero and heroine.
While the third in a series, Through Your Eyes can be read as a standalone. Perhaps not the romance for me, but for those who love the virginal heroine or the opposites attract romance I recommend this story.

Book Info:

Publication: May 30, 2017 | Zebra Shout | For Your Love #3
ONE LAST CHANCE
Deirdre Murphy has had her life planned for her since she was born: Work in her parents' noisy pub in rural Ireland. Live with her family until she marries. Marry her childhood sweetheart ASAP, since he's decided sexy fun time should wait for marriage. None of it excites her. But before her fate closes in, Deirdre's got one last visit to her Chicago cousins—where she can spend her mornings in a peaceful bakery, keep to herself, and savor the space she needs…. Until she meets Tommy O'Malley.
Tommy is as tough as his city and twice as ready to welcome her in. He's covered in tattoos, stays up half the night inking them on other people, and has a reputation for being good with his hands. And he's heart-pounding, forgot-her-words, can't-stop-staring exciting.
Tommy knows he's the opposite of everything Deirdre has prepared for. But to watch her set herself free, he's willing to risk almost anything…