Risk of Falling by Syndi Powell: Suzy Bylin lost her mom to cancer and then realized she lost herself in her mother's battle as well. Now with her mother gone, her dreams gone and the threat of losing her house, her life was crushing her. The only bright light she could see was her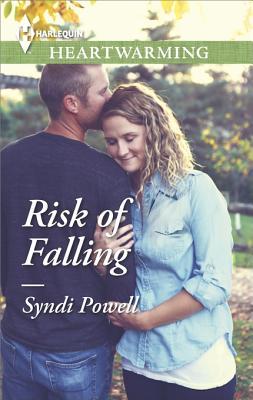 job, working in a nursing home overnight and caring for the seniors might not have been her dream but it was certainly her escape.
Will Stone, former marine and current town inspector. He had to step up and be the man of the house when his father died. He was used to being in charge and knowing that things were very black or white. His weakness? His mother, not a mama's boy, but he loved his mother something fierce and when he got the call something happened to her everything else just stopped.
Will and Suzy had gone to high school together and not many years later, after life throws them a couple of curve balls, they are reunited not once but twice in sticky situations. Suzy has ever reason to not like Will, and Will he wants to not need Suzy and yet… well you know what they say about best laid plans. Will this Mr. fix it end up fixing Suzy? Or will Suzy's dreams lead her far away from Will?
This story wasn't what I was expecting, that said the book kept me reading and definitely was heartwarming. The relationship between Will and the women of his family was so real and while I wish Ms. Powell had been able to dive a little deeper in the dynamics of his older sisters, the relationships she built between them were very real. Will is incredibly protective and yet struggles with how to show those that he loves, his love. When his mom reveals her relationship with his father something seems to click with him and it's truly an ah ha moment for him and a wow moment for the reader where things just come together. Then there is Ms. Powell's building of Suzy. She is built as someone you want to love but spend so much of the book pitying and rooting for, it seems like every time she turns around there is another hard knock for her. So in true HEA fashion when the ending happens it's hard not to have your heart be happy for her.
This is a true heart warmer, the romance is built slowly and with layers. Ms. Powell has a way of wrapping you into the her world so securely that you find yourself wanting not only to make sure Will and Suzy get their HEA, but that all of her secondary characters do as well. Definitely a feel good book.
Book Info:

Publication: August 1st 2014 by Harlequin Heartwarming
Grief doesn't come with a deadline…
She's got thirty days to clean up her mother's neglected home or she'll lose it. That's all city code inspector Will Stone has given her. And it's not nearly long enough for Suzy Bylin to sort through the lifetime of old treasures and broken keepsakes she's inherited.
Desperate to keep the place, Suzy must steel herself against the feeling that every time she throws something away, she's getting rid of a memory of her mom. When she can no longer do it on her own, she has nobody to turn to but Will. And if she can help him through his own family crisis, maybe together they can find more than mutual support and friendship….(