In Saving Baby Amy by Annie Claydon , Dr Chloe Delancourt feels like she's spent years trying to make up for not being there when her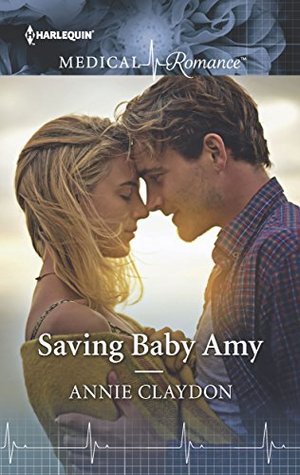 younger sister Hannah needed her most after their parents died suddenly. But now Hannah is a single mum to beautiful two-year-old Amy. And Chloe can see that her sister is getting stressed. So it shouldn't be a huge surprise when Hannah leaves Amy in Chloe's care, taking off for a break. A trip to the hospital when the toddler falls sick brings Chloe in close contact with her brother's friend Jon Lambert, a London pediatrician. Their immediate chemistry is obvious but she was badly let down by her previous boyfriend and isn't sure she should get involved when her life is in such chaos. But Jon soon becomes part of Chloe and Amy's daily lives and before long she can't deny she's over the moon for him.
"I know you've been let down before but I'm not going to repeat history."
"How would you know that?" She suddenly wanted so badly for him to be different, but couldn't dare to believe he was.
Jon was already aware of Chloe when she brought young Amy to be treated, being that her brother is his close friend. So when he realizes that Chloe will need some help with the adorable toddler with Hannah having taken off for a bit, he's more than happy to step in and help. A family is something that is no longer on Jon's radar after being dragged through a messy divorce and being estranged from his own family ever since. But being near Amy and Chloe has him thinking of what it would be like to come home to them every day. Jon's a little freaked out by his reaction to the beautiful doctor. Although he has a feeling that if they can both work past their own personal struggles, they could have everything they've secretly wished for in their lives.
'It was perfectly possible to help the sister of a good friend out without doing anything stupid like falling in love with her.'
This medical romance may be titled Saving Baby Amy, but it was Amy herself who inadvertently brought together two stoic doctors, leading the way to show them they were capable of trusting–and loving–once again.
'Chloe seemed to understand everything that was in his heart, every question and every sadness.'
I really liked the main characters Chloe and Jon and their playful, slow burn relationship. They were both very capable in their careers but had been burned in love so it made them rather standoffish in their personal lives. They both were surprised by their connection and attraction to each other but neither wanted to pursue things and potentially get hurt again, which I completely understood. It definitely took some time for Chloe to realize she could put her trust in Jon and just how much of a standup guy he was. And he had to understand how much his divorce affected his views on family and relationships before he could admit it was something he might want again in his life. It was sad learning about Jon and Chloe's pasts and what they went through, but Annie Claydon wrote it in a real way, making their struggles feel genuine.
It was the drama with Chloe's sister Hannah (Amy's mother) that for some reason felt a bit disjointed to me. I got why she was worried she was flailing about as a single mum. And I'm sure the loss of their parents, when Hannah was so young and Chloe was sick at the time, did affect her. How could it not? I just never figured out why everyone seemed to cover for her when she flaked out for a while. Yes, she was the youngest sibling, but in my mind she needed to take responsibility for her actions and take care of her daughter Amy–who was an absolute sweetheart by the way. Seriously. She was the cutest two-year-old you could imagine and will steal your heart.
With bits of lovely dry British humor and main characters who didn't make things easy on themselves, author Annie Claydon took readers on a satisfying emotional journey in Saving Baby Amy.

Book Info:

Publication: June 20th 2017 | Harlequin Medical Romances |
Brought together…and bound forever!
Fiercely independent orthopedic doctor Chloe Delancourt will do anything for her teenage sister, Hannah, and little niece, Amy. So when Amy falls ill and Hannah runs away, Chloe steps in, with the help of gorgeous pediatrician Jon Lambert…igniting an unexpected attraction!
Saving baby Amy brings Jon closer than he ever wanted to get to another woman after his disastrous marriage. But Chloe's determination and unwavering loyalty remind Jon of what a real family should be…and that this could be his chance to have everything—with Chloe!