In Second Chance Girl (Happily Inc. #2) by Susan Mallery, Artist Mathias Mitchell and his brother Ronan moved to Happily Inc,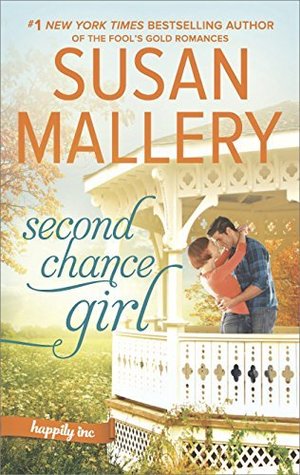 California from their hometown of Fool's Gold after a family meltdown. And while the move has been a good one in terms of business, it's done nothing to mend the fractured relationship between him and Ronan or with their parents. Based on the tough lessons he's learned about love and loyalty over the years, Mathias's romantic aspirations are of the casual variety. But from the moment he spots gamekeeper Carol Lund and her lonely giraffe Millie on the animal preserve grounds, he knows he wants Carol. And no matter how he fights it, Mathias wants more than just friendship with the beautiful redhead. But with a cute little sneaky beagle named Sophie to babysit and a family wedding to attend that may or may not implode, he's got more than enough to worry about at the moment.
"Morning," he began.
She rose and shook her head. "Whatever it is, I don't want to hear it."
Sophie crossed to her. Carol dropped down to cuddle with the dog. Sophie eyed him as if pointing out *this* was the way to solve every problem. Doggie hugs and a quick kiss on the cheek. She might have a point.
Carol has been interested in Mathias since he first moved to town and became her neighbor. She doesn't usually go for the super-sexy-ladies-man-types but there's something that sparks between them every time they get close. Growing up next to her younger sister Violet, who is beautiful and always fashion conscious, Carol has always felt a bit, well, plain. So when Mathias actually starts to let on that he's interested in her, she's shocked and hopeful. Especially when he comes to the rescue, helping her fundraising efforts to get Millie a herd of her own. The more time Carol spends with Mathias, she also realizes how hurt he is emotionally and knows she has her work cut out for her if she's going to show him how serious she is about a future with him. But will he be willing to take a leap of faith and trust that she'll be there for him no matter what?
"I always thought love was about being worthy, but it's not. It's about being willing to be loved and to love in return. I love you, Mathias. I have for a long time. We belong together and if you need me to keep proving that, I will."
Happily Inc was one happening town in Second Chance Girl. Between getting two equally wonderful romances, a wedding, an engagement, a giraffe on the loose, and a duke visiting the town, Susan Mallery definitely turned on the charm for this latest installment.
'She was delightful, Ulrich thought. Bright, funny, sexy as hell. There was a vitality he found appealing. Violet Lund was so much more than he'd expected. Accusing her of stealing might have been the smartest thing he'd ever done.'
I'm really liking this new Happily Inc series from Susan Mallery. And even though we're only two books in at this point, it's already starting to feel comfortable–just like Fool's Gold was for me. We had the same basic group of friends here from book one but we got to learn more about the animal preserve and the Lund family, which was interesting. Of course lonely Millie the giraffe was a big part of the storyline with Carol's quest to find a family/herd for her. And the Mitchell family and all their drama was another huge portion of the story. I loved that there was an added bonus of Carol's sister Violet getting her own romance with a handsome duke as part of the subplot. It was certainly a fun and very sweet addition to the book. Oh, and there were a few cameos from fan favorite Fool's Gold characters towards the end of the book that fit perfectly.
Mathias and Carol seemed like an opposites attract couple to me at first: a gamekeeper and an artist. She thought of herself as a plain Jane and was a bit lacking in the self-esteem department. Some readers may frown on her tendency to put herself down but I thought it was honest and rather refreshing to see a character having the same struggles probably a lot of us have. Carol was aware that it was something she needed to work on and that it was up to her to overcome it. Mathias turned out to be a nice guy, not at all the player I thought he would be. He did have a lot of charisma and a way with the ladies, but he was hiding the hurt that his family, specifically his parents, had dealt out over the years. Mathias's world was turned upside down by his growing feelings for Carol, who he thought was off-limits given that she was the relationship type and he refused to let things get serious. I understood how past hurts caused him to push Carol away but I did get frustrated with Mathias a few times for not at least trying.
For me, two characters kind of stole the show: Sophie the beagle and Ulrich the handsome duke. Sophie was a mischievous, darling little beagle who stole everyone's heart–including that of Mathias, whom she was staying with until his parents returned from a trip. His house guest got up to a lot of trouble but in the most adorable of ways. Susan Mallery did a fantastic job getting the mannerisms and the beagly attitude right, making me laugh many times. (Can you tell I was a former beagle mom? lol) And Ulrich! *swoon* Violet was one lucky lady to catch the eye of the duke, with his sexy British accent and his dry wit. Their tender romance started off on a bad note when he accused her of stealing from his grandmother but it all worked out wonderfully in the end.
Emotions ran high and there was a fair amount of soul-searching in Second Chance Girl, but as you would expect of a Susan Mallery novel, it was all done with heart, a touch of humor, and with a focus on friendship and family.

Book Info:

Publication: Expected publication:September 26th 2017 | HQN Books | Happily Inc. #2
A touching modern fairy tale that won't let go of your heart, from the #1 New York Times bestselling author of the Fool's Gold romances!
Mathias Mitchell's easy smile hides a world of hurt. After the worst kind of family betrayal, he moves to Happily Inc., California—the wedding destination town supplies a steady stream of bridesmaids, perfect for his "no promises, no pain" lifestyle. Yet he can't stop watching for his beautiful, elusive neighbor on the animal preserve behind their homes.
Gamekeeper Carol Lund knows she's not special enough to attract an alpha male like Mathias, so his offer to help her adopt a herd for her lonely giraffe is surprising—and his determined seduction, even more so. But just as she finally welcomes him into her bed, his careless actions crush her heart. Will she give him a second chance to prove she'll always come first in his heart?