In Sisters Like Us (Mischief Bay #4) by Susan Mallery, Like many single moms out there, Harper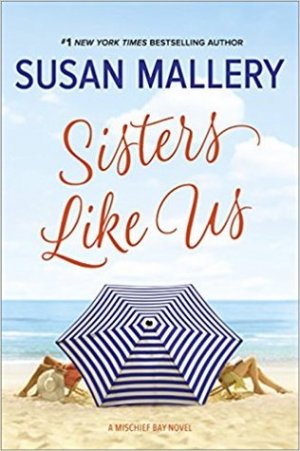 Szymanski has decided there just aren't enough hours in the day to accomplish everything. Balancing her virtual assistant business out of her house along with finding time to spend with her sixteen-year-old daughter Becca is tough enough. Add in her extremely traditional mother–who lives above Harper's garage, no less–and it's utter chaos. Told from basically the day she was born that women run the house, entertain, set a perfect table and make everything from scratch, Harper knows she's eons away from her younger sister Stacey who is a brilliant, very modern, scientist. But maybe there's a way she can take a cue from Stacey, start doing things her own way and grow her new business, mend her relationship with Becca, and even stand up to her mom for once. And possibly even find a bit of romance in her life.
'Somewhere between orgasms, she'd fallen for Lucas. What had started as easy and fun had turned serious–at least for her.'
Academia and research is easy for Dr. Stacey Bloom. Understanding emotions, not so much. The exception being her solid relationship with her terrific husband Kit, of course. She never really saw herself having children, especially considering she was nothing but a source of disappointment to her own mother. But now that she's pregnant, she knows Kit will be a great father. And he's even planning on staying at home to take care of their child, something he's much more well suited for than Stacey. The biggest issue they're facing is telling her mom she's pregnant and about their non-traditional plans for raising their daughter. Waiting until the baby arrives to tell her mom about the addition to their family probably isn't a viable solution. With Kit's gentle support, Harper playing interference, and Kit's fantastic nephew Ashton in town to help out, Stacey hopes she has enough people on her side to help her transition into her new role as a mom.
'She glanced at the calendar counting up to the birth and tried to tell herself everything would be fine. The problem was, she knew it wouldn't be fine at all. It would be a disaster. She was never meant to be a mother.'
Charming and heartfelt, funny but with some wonderfully poignant moments, Sisters Like Us was everything you could hope for and more from a Susan Mallery book.
'In the Bloom family, words were the true weapon, and expectation was the ammunition.'
I honestly had so much fun reading Sisters Like Us. Susan Mallery is known for her engaging characters and the wonderful communities they live in that feel completely real to her readers. And we definitely had that there. But the dynamics between the cast members was what really caught my attention with this story. We had a couple of burgeoning romances, a marriage on the brink of being tested by a newborn baby, some friendships being made, some falling apart. And then there were the family issues going on. Lots of them. I thought Mallery was able to make each of the situations seem not only genuine, but also relevant to many families today. So readers are bound to commiserate (and laugh) along with the characters.
Sisters Harper and Stacey were polar opposites. But there was a lot of love and respect between them which I adored. Harper had tried over the years to be Stacey's champion and to act as a moderator between them and their opinionated mom Bunny. Oh Lordy, their mom. Sigh… I was mostly okay with her by the end but wow were there moments where I couldn't believe how selfish she was *and* with how mean spirited she was with both of her daughters. Particularly with Stacey. I kind of got the sense that Stacey was "on the spectrum" as she showed some possible signs of Asperger's–which made it tough for her to connect emotionally with others. But I loved her relationship with her husband Kit. Talk about a wonderful man! Total beta hero material right there. He was the only man Stacey had ever had really understand her and he was someone she felt completely at ease with. They made a ridiculously sweet, lovely couple.
Harper and her daughter Becca had their growing pains as Becca tried to navigate her teen years. Their struggles seemed pretty accurate to me and I loved getting both of their POVs so we could piece together how they felt about each other. The introduction of Lucas to Harper's life and Ashton (loved him!) to Becca's created its own problems but I liked how they all interacted. Lucas had a moment that I'm not sure I would have forgiven him for as quickly as Harper did, but he was a great addition to their lives. The way he cared for Becca, also making her aware that she needed to earn things in life and treat her mom with respect made me fall for Lucas just that much more.
Sisters Like Us makes me wish Mischief Bay was a real place so I could visit these crazy-cool characters. I think readers will be enchanted with this honest look at modern families and the everyday trials and tribulations they all face.
Book Info:

Publication: Published January 23rd 2018 | MIRA | Mischief Bay #4
The grass is always greener on your sister's side of the fence…
Divorce left Harper Szymanski with a name no one can spell, a house she can't afford and a teenage daughter who's pulling away. With her fledgling virtual-assistant business, she's scrambling to maintain her overbearing mother's ridiculous Susie Homemaker standards and still pay the bills, thanks to clients like Lucas, the annoying playboy cop who claims he hangs around for Harper's fresh-baked cookies.
Spending half her life in school hasn't prepared Dr. Stacey Bloom for her most daunting challenge—motherhood. She didn't inherit the nurturing gene like Harper and is in deep denial that a baby is coming. Worse, her mother will be horrified to learn that Stacey's husband plans to be a stay-at-home dad…assuming Stacey can first find the courage to tell Mom she's already six months pregnant.
Separately they may be a mess, but together Harper and Stacey can survive anything—their indomitable mother, overwhelming maternity stores and ex's weddings. Sisters Like Us is a delightful look at sisters, mothers and daughters in today's fast-paced world, told with Susan Mallery's trademark warmth and humor.