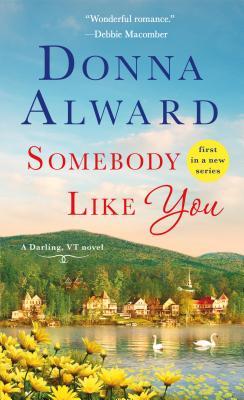 Somebody Like You by Donna Alward: Laurel has hated Aiden since they were teenagers and she was caught up in a foolhardy bet between him and his teammates. But now that she's back in town, building a new life after her husband came out as gay and with a new partner, Aiden can't seem to leave her alone.
Aiden always regretted the bet, especially because he really did have strong feelings for Laurel. And now that she's back in his life, he can't seem to get her off his mind.
But even when Laurel forgives him and gives into the passion sparking between them, she can't let her lust turn to love. Not when she can't trust anymore that there's a happily ever after in the cards for her.
She moved back. And the door was almost closed when he ignored every rational thought and pushed it back open again, stepped inside, and gathered her up in his arms…
…Her body melted against his, just the tiniest bit, and he lowered his head and captured her mouth in a kiss.
Somebody Like You is definitely a cute and sweet romance. Laurel has been through a lot and boy, do I feel for her and totally get her conflict. But I just can't say the story interested me enough. While I enjoyed it, it felt too muted. Aiden could and should have been a lot of fun to read about, but ended up falling flat because he ended up being too focused on responsibility. There needed to be a better mix between him growing up and maintaining that youthful charm.
The relationships, in and outside the romance, felt muted as well as I just don't feel much happened. They went about their lives in this sweet town. A bit of trouble existed with teenage hooligans, but that was very backburner. Overall, the romantic conflict was very internal for Laurel and I just wish there was something else to hold my attention.
But for those who love the sweet and calm second chance romance, I recommend Somebody Like You by Donna Alward. A lot of good and adorable elements – such as the kissing bridge! – existed, but, for me, it just didn't reach its potential.
Book Info:

 February 7, 2017 | St. Martin's Paperbacks | Darling, VT #1
A kiss to last a lifetime
Aiden Gallagher was only five years old when he appeared in a photograph on the Kissing Bridge. The town of Darling, Vermont, has used Aiden's image on the famed bridge—local legend has it that a kiss there results in everlasting love—as part of its tourism campaign. Now, twenty years later, Aiden is asked to recreate the moment with the woman he once kissed: Laurel Stone.
Recently divorced, there's nothing Laurel wants less than to pretend happily-ever-after with Aiden. As teenagers, their romance was no fairy tale—and Laurel has never quite forgiven Aiden for breaking her heart. But now that she is back in her hometown, and keeps bumping into police officer Aiden, Laurel can't deny that there's still a strong flicker between her and her old flame. Could it be that the Kissing Bridge is working its magic on Laurel and Aiden—and that all true love ever needed was a second chance?