Speaking of Love by Ophelia London is a sweet and fun read.
Mackenzie Simms has decided to find a woman for her friend Rick. She has been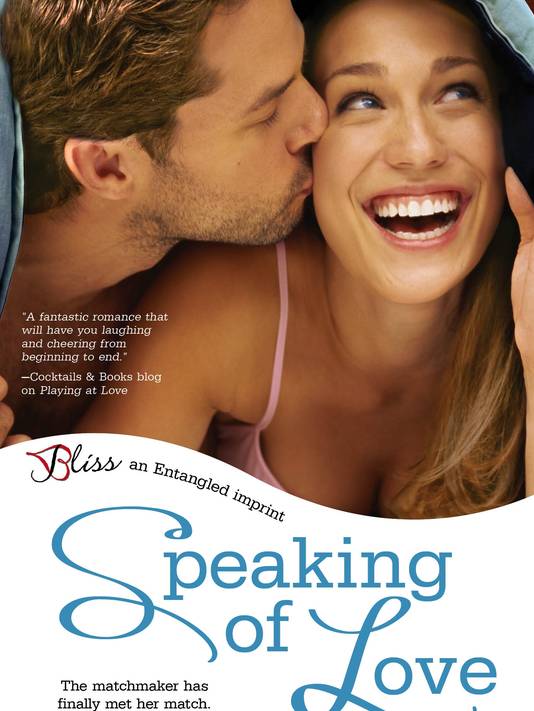 attending social event with him for a while now as his non-date, but she is never comfortable in those events. Her solution, to match him up with her cousin, she would be a better match for those events.
Rick Duffy knows that Mac is not comfortable in the events he has to attend as owner of the newspaper. But he can only make himself stay there long enough when she is with him. She makes everything more fun and lighter.
While Rick knows that Mac and him are better as friends, he can't help the attraction he has always felt for her. But it doesn't look like she is interested in him and he doesn't want to ruin their friendship.
Mac has always felt an attraction to Rick from the beginning, but after learning who he was shortly after they met, she knows that nothing can come of it. For the past may just stand in their way, and if Rick is anything like his father, she would never be able to face her own father again.
Speaking of Love is a very sweet story, with a very good lesson, don't assume for you may be incorrect in your assumption, it's better to talk and know the truth. That is a lesson that Mac will learn when she is about to loose Rick due to her assumptions and her unwillingness to talk about the past with him. Which is kind of ironic since she is a speech teacher and she always looses her ability to speak when nervous.
Rating:
Book Info: Entangled Publishing (Bliss) (February 10, 2013)
Speech teacher Mackenzie Simms decides she needs to find a new girl for her friend, handsome newspaper tycoon Rick Duffy. Though they're each other's go-to dates for events, Mac and Rick couldn't be more different: she is outspoken, sarcastic, and completely loathes his privileged lifestyle. He's laid back, unassuming, and comfortable at an upper-class charity function. So why can't she stop thinking about him?
Rick knows he and Mackenzie are better off just as friends, so he agrees to the double date getaway Mac plans at his family cabin. But seeing Mac cuddle up with her "friendly" date rankles Rick beyond reason, and Mac's more affected seeing Rick set up with her beauty queen cousin than she'd like to admit. Can Mac 'fess up to what's really in her heart, when speaking her mind puts everything at risk?