Let me start by saying that even though Special Interest by Emma Barry is a romance based in the political arena, it did not feel like a political book at all. It was a wonderful, heartfelt love story about two people who, yes are both involved in politics, yes are on the opposite side of the political spectrum, but they are also very real and perfect for each other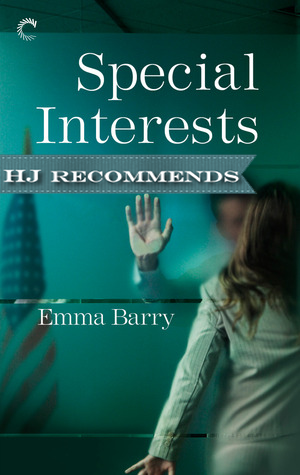 really. Let me tell you why.
Millie Franks is an idealist. She truly believes that she can help make the world a better place, make a difference for the working class, one battle at a time. The problem is that after she was held hostage at gun point by a man in a chicken suit, (yes I did say chicken suit) she begins to see changes in herself. Prior to all of this, she would have described herself as timid, taking a back seat, playing it safe. That is why when Parker Beckett takes an interest in her, she can hardly believe that the man that turned her down in the bar, the man that told her that he is a bad bet, bad to get involved with, might actually want to risk a relationship with her.
Parker Beckett wants Millie from the minute that he sees her in the bar. Problem is that he works an 80 hour a week schedule and he fears not being enough for any type of relationship, not enough for Millie. Problem is that Millie make him see things in a different light. He finds Millie to be a breath of fresh air in a town like Washington, D.C. where everyone is a cynic. Her wit, intelligence, and beauty have him hooked. He feels things that he never expected to feel. He is protective, loving, supportive and he can see a future with Millie, he is just so scared that she might not feel the same way.
What I love about these two is that they are both scared of the same thing, losing each other, screwing up the relationship. But as Parker start to let Millie in, allows him to see his different sides, Millie begins to rethink everything that she once thought true about him. And as Millie begins to open up about her fears after the hostage ordeal, Parker begins to realize that her faith in him, her trust in him makes him a better man. I love their fights, their conversations, their witty banter.
This is a story about finding that unexpected gift of love and realizing that you will do anything to hold on to it. I loved this book and I think you will to.
Book Info:

April 7th 2014 by Carina Press
Union organizer Millie Frank's world isn't filled with cocktails and nightclubs…until she's turned into an unwitting minor celebrity. As if being part of a hostage situation wasn't traumatizing enough, now her face is splashed across the news. But Millie's got fresher wounds to nurse—like being shot down by the arrogant bad boy she stupidly hit on.
Parker Beckett will do whatever it takes to close a deal for the senate majority leader, including selling out union labor. Charming and smart on the surface, he's also cynical and uncommitted—an asset on the Hill. But something about Millie has stuck with him and when negotiations bring her to his office, Parker breaks his own rules and asks her out.
Parker can't understand how Millie has retained her idealism in a place like D.C. Millie can't believe what Parker's willing to sacrifice in order to pass a budget. But as they navigate their political differences, what grows between them looks a lot like a relationship…and maybe even a little like love.