A forbidden romance between a Hollywood actress and an Amish furniture maker. Where socially liberal meets morally conservative – Alrighty you've got my attention! 🙂
Temptation by Kathryn Barrett is a strong debut novel, about forbidden love, choices and consequences.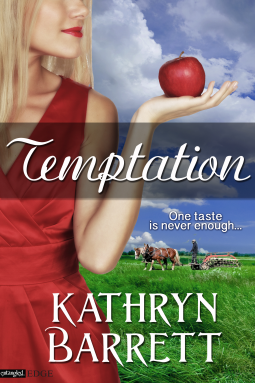 Laura moves to Pennsylvania's Amish country to film her next movie, once she gets there she is so taken with the simplistic way of life that she decides to put down roots and buys herself a house.
The house also comes with a very attractive neighbor and it isn't long before Jacob and Laura strike a friendship, they are both intrigued and attracted to each other. Jacob talks Laura into taking up gardening and before you know it Laura is gardening and baking plum pies and loving it.
Though Laura and Jacob are attracted to each other and have feelings for each other they face major obstacles. In order for Laura and Jacob to have any kind of relationship Laura would either have to become Amish – and that would mean giving up her career and her whole way of life or for Jacob to leave his church, his family and become "English".
he stood up, his stance as rigid as the poles that staked her tomatoes. "You do not understand the point. There is no way for us to be together, unless one of us is willing to give up their lifestyle, their faith, their beliefs…their life. I cannot be the one to do this, Laura. That is what I am telling you."
"You came here to tell me that?" She gazed up at him, as best she could in the dim moonlight and dared him to admit he wanted her.
"I came here to weed your garden."
I really liked Jacob Character for his dry wit and humor and Laura's for being upbeat and open to change. Kathryn illustrates the differences and complexities between the characters outlook and beliefs beautifully but you can also see their caring and respect for each other shine through.
"A one-night stand?" she supplied. "No. I want a wife. A woman who will help me, who will be a mother to my children. A daughter to my mother. A woman who will weed her own garden, and grow her own food."

"You have pretty high expectations. What about sex?" "What about it? It is not so much of a great thing, I think, compared to what else a woman does for a man."

Laura laughed. "You've got a lot to learn, Jacob Hostetler."
Temptation was a strong debut novel, Once I started reading this book, I wanted to keep paging through it to find out how the author would turn this forbidden love story around and give it a HEA. Overall I enjoyed this book and Kathryn did a fab job of keeping it real to the very end. I can't wait to read more from this author and definitely recommend this book. HJ Top pick!
Rating: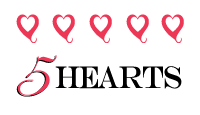 Book Info: Entangled Edge Pub date 
Laura Hayes has been acting since she was an infant, making Hollywood the only home she has ever known. But when she moves to Pennsylvania's Amish country to film her next movie, she discovers there's more to life than a pair of Jimmy Choos and a Marie Claire cover.
Intrigued by the Amish simplicity, she's soon gardening and baking plum pies—and enjoying it. And when her neighbor turns out to be the local heartthrob and a talented furniture maker, she realizes that what's missing from her life might be the love of a good man—not to mention the perfect heirloom tomato.
Jacob fights the urge to question the teachings of his Amish beliefs—despite his desire to create furniture that is beautiful as well as useful—and struggles with his longing for the sexy stranger who makes him feel truly alive for the first time. As his attraction grows, so do his doubts, until he's forced to face temptation and decide once and for all what is truly worth the fight.