In The Best Medicine by Tracy Brogan, Evelyn, a plastic surgeon, is fairly new to Bell Harbor. Evie is focused on her career, and is wary of any relationships. Having parents who never really got along before they divorced has made her leery of happily ever afters, if they really do exist. But with a 35th birthday, no man on the horizon and her ovaries screaming at her, Evie decides it's time to find a man. Not just any man, a man who meets her very strict, scientific list of suitable characteristics.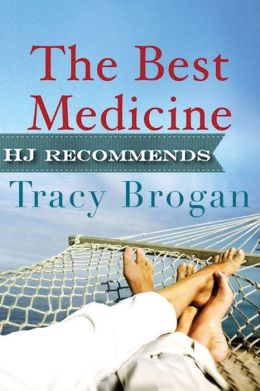 Definitely not a man like 27 year old Tyler, whose facial laceration she expertly stitched up. He's too young for one thing. Not settled. Carefree and careless. Even if she can't help but notice how hot he is and how he makes her insides quiver. He's interested, but she's not. She can't be, right? Evie can deny all she wants, but her heart is telling her differently. Even as she joins an online dating service, Tyler is pursuing her. And while she's searching, what's wrong with a little fling?
Evie is letting her preconceived notions about Tyler color her vision though. There is a lot more to him than what appears on the surface, but Evie isn't giving him much of a chance. As things between them heat up and get more serious, can Evie realize nothing in love and life is black and white? There is no scientific formula for love…sometimes opposites do attract when given the chance. Will Evie be able to move beyond her list and give Tyler a chance?
Tracy gives us some great characters in The Best Medicine with Evie and Tyler along with a great supporting crew of secondary characters! With smooth, humor filled writing, Tracy will draw you in so that you forget the world around you and you are in Bell Harbor. Evie and Tyler make a unique hero and heroine. Evie is very rigid in her thinking, and cautious! She felt deserted when her father left her and her mother, and has never felt secure in love since. Tyler is a hard worker, loyal, and a care taker. Tyler has his own family issues that he hides well. As different are, they have both had difficulties and have worked hard to move beyond them. The chemistry between Tyler and Evie is steamy hot, sizzling off the page! The door stays shut without a lot of details and this works very well in The Best Medicine. Explicit details would do nothing to enhance the story, instead the intrigue pulls you in further! I really liked how Tracy did this.
I loved the way Tracy brings family and friends into The Best Medicine without overwhelming the story of Evie and Tyler. She weaves in a few subplots that keep things lively!
The Best Medicine is all about following your heart, and being open to new experiences. About not judging a book by it's cover as the saying goes. I'd highly recommend The Best Medicine to contemporary romance readers who love to laugh as they get lost in a great story!
Book Info:

Published May 13th 2014 by Montlake Romance
Everyone in Bell Harbor thinks career-minded plastic surgeon Evelyn Rhoades needs a husband. Everyone, that is, except for Evelyn . . . sort of. Even if she did want a husband (which she doesn't . . . most of the time), she?d never let something as intangible as fate determine who she marries. No, if she's going to find someone to spend her life with, she?ll do it scientifically: with a carefully crafted list of criteria and an Internet dating site. But when intoxicated, law-breaking Tyler Connelly crashes into her life by way of a stolen Jet Ski, unruly emotions defy common sense. Sure, he's sexy, charming, and determined to win Evelyn's affection, but all evidence points to him being the worst possible choice. He's too young for her. Too irresponsible. Too underemployed. And, oh yeah, he's her patient. But Tyler knows firsthand how the best-laid plans can crumble under the weight of destiny. Now all he needs to do is to teach Evelyn that, in matters of the heart, love often supersedes logic.