The Changeup by Rhonda Shaw: Maddie Hamlin has been there and done that, even has a precious nine year old daughter, Bree, to prove she wasn't any good in the marriage department. If her most recent string of dates proves anything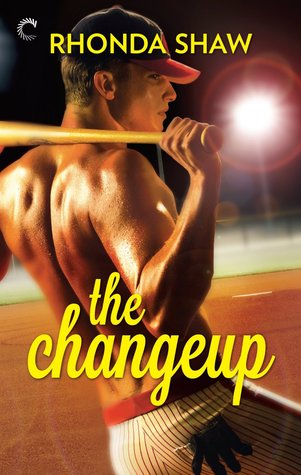 she's no good at dating either. So what? Maddie has decided to focus on Bree and being the best mom possible after all at 34 what else is there really?
At 22 Chase Patton has it all, the up and coming star pitcher for the Detroit Rockets, a huge contract, girls throwing themselves at him and an old soul. With a good head on his shoulders Chase realizes he's met someone special when he meets Maddie and Bree at her sister's house. So what if he's there with her niece?
Twelve years can be a very large gap especially when you factor in jealous family members, fear, trust issues and the belief that you really aren't allowed to be happy. Will these two realize that love can conquer all and allow the three of them to have a happy family? Or will they allow things to stand in the way and make them all miserable?
I have to say I'm not a huge fan of older women/younger men romances. It's just not my cup of tea, I love sport romances though and so I wanted this to work for me. I have to say I'm still not a huge fan but Rhonda Shaw definitely helped me to see some positives. She gave Chase a soul that made the reader feel he was older and wiser than his years not to mention didn't make it creepy to read. She did however put some stock in the fear of older women making moves on younger men, you will have to read to figure out the how's on that one.
Overall this is a great story and shows that love can triumph over anything, you just have to believe.
Book Info:

Published January 6th 2014 by Carina Press | Series: Men of the Show
Playing for keeps
After nine years of striking out in the dating department, Maddie Hamlin is throwing in the towel. But just as this mom resolves to remain single, she meets sweet and sexy pitching phenom Chase Patton at a family dinner. He's perfect for her–aside from the fact he's only twenty-two.
Chase knows he should be focusing on his rookie year with the Detroit Rockets, but he can't stop thinking about Maddie. He doesn't care that the beautiful school counselor is twelve years older, and he's already lost his heart to her adorable daughter. When an incredible date leads to an incredible night of passion, he knows he never wants to let her go.
But dating in the media spotlight is a whole new ball game. Maddie quickly discovers that not everyone accepts their unconventional relationship and that finding love may mean losing everything else.