In First Love by James Patterson and Emily Raymond, Alexandra "Axi" Moore has decided to embark on a cross country trip with her best friend Robinson. They have a shared past that connects them in a way that most sixteen year olds could never dream of. Axi wants to take flight and leave her small hometown of Klamath Falls behind for at least the time being.
"I'm running away," I said.
Robinson's mouth fell open.
"…And FYI, you're coming too," I added.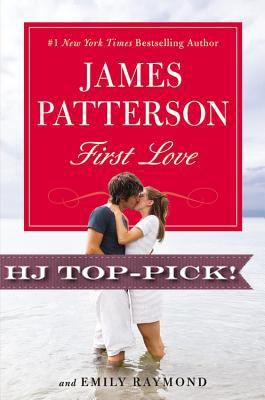 Taking off on a whim is definitely new for good girl Axi and leaving her dad behind with no knowledge of where she's headed is frightening…until the adventure begins. She soon finds herself doing things she's only seen in movies. And it's the most excitingly satisfying thing she's ever experienced.
"Axi," Robinson said, his voice softer now. "If this trip is a mistake, it's the best one we'll ever make."
And somehow, by the look he gave me then, I knew he was right.
Axi finds it harder and harder to ignore the feelings she has for Robinson but she's afraid to make a move and lose the friendship they've developed. When their trip goes from fun to serious in the matter of a few moments, Axi decides it's time to confess and hope Robinson doesn't freak out and push her away.
'Whether or not he wanted me the same way I wanted him, we were in this together–that was what Robinson had said. It had never occurred to me before what a complicated word together was.'
First Love is a breathtaking new novel from James Patterson based partly on his own experiences about, just like it sounds, falling in love for the first time. However, this tale is about so much more than that. There are life lessons learned by these teens from which we can all benefit at any stage of life.
Now, I should forewarn you that this is not a story with a sappy HEA. To me though, it was as inspiring as it was heartbreaking, and is one of those stories that will stay with me for a long time. Robinson's outlook on life, his enthusiasm, his acceptance of every situation was simply wonderful. He embraced his time on the road with Axi and made sure they did every crazy fun thing together they had always dreamed about. In my mind, Robinson embodied the phrase "no regrets" as we got to know him better and this made him the perfect counterpart to Axi's good girl image.
Set in Axi's POV, we learn how she had gone through a lot in her sixteen years and she knew it was now or never to let go and be free for just a little while. Her selfless act of giving Robinson an adventure turned out to benefit her just as much. The romance between the two of them was so sweet, filled with many tender and poignant moments that warmed my heart. I am very impressed with the versatility of James Patterson's writing style and never could have imagined how engaging a romance he could offer us.
I'll try not to give too much of the story away here, but after I began part two of First Love, some of the almost cryptic comments Axi made began to make more sense and I'll admit–it kind of devastated me in the process. The whole story took on a different tone to me at that point: one that was filled with a certain desperation yet definitely still full of love and longing.
Grab a box of tissues before sitting down to read First Love. I smiled and chuckled more than I shed tears, but the bittersweet ending was very powerful. Despite the tears, I think this incredible story is well worth the time and emotional investment.
Book Info:

Publication: January 13th 2014 by Little, Brown and Company
Axi Moore is a "good girl": She studies hard, stays out of the spotlight, and doesn't tell anyone that what she really wants is to run away from it all. The only person she can tell is her best friend, Robinson–who she also happens to be madly in love with.
When Axi impulsively invites Robinson to come with her on an unplanned cross-country road trip, she breaks the rules for the first time in her life. But the adventure quickly turns from carefree to out-of-control…
A remarkably moving tale with its origins in James Patterson's own past, First Love is testament to the power of first love–and how it can change the rest of your life.