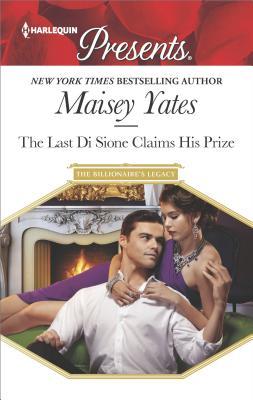 The The Last Di Sione Claims his Prize by Maisey Yates is the 8th and final book in the Billionaire's Legacy series, told by several different authors. The series revolves around an elderly gentleman, Giovanni di Sione retrieving treasures from his past that he calls his Lost Mistresses. His grandchildren have all been tasked with finding one of these items and have found true love in the bargain – and now it's Alessandro (Alex) di Sione's turn.
Alex's mission is to track down a painting, called The Lost Love. There are rumors of its existence but no firm proof – except his grandfather says it is very real and he wants it back. It's linked to a scandal involving the exiled royal family of Isolo D'oro. The subject of the mythical painting is thought to be Queen Lucia, an elderly woman who lives with her granddaughter Gabrielle on the Mediterranean isle of Aceena. Alex's grandfather believes the painting is hidden in a secret place on Isolo D'oro, and that the queen knows where to find it. Believing himself to be on a fool's errand but never one to say no to the family patriarch, Alex embarks on a mission to find the Lost Love – and discovers a woman who captures his heart.
I loved this story. In fact, I'd go so far as to name it one of my top 5 Harlequin Presents that I've ever read. Everything about the story appealed to me. There is an arrogant yet charming hero, a studious and somewhat sheltered heroine discovering her courage, and a beautiful Mediterranean setting. The banter between the hero and heroine is witty and humorous. There are family secrets to unearth. There's the mystery surrounding the painting – who is the woman in it? Who painted it? Why does Alex's grandfather want it so badly? This mystery unfolds over the course of the story, while Alex and Gabrielle who start out at odds with each other find themselves unable to deny their attraction. The conflict comes from neither Alex nor Gabrielle wanting to admit that they are falling for each other and trying to guard their hearts from each other (to no avail). There are sexy scenes, romantic ones too, and the requisite 'Hero makes a big mistake and must grovel to fix things' plot that leads to a sweet happy ending and an epilogue to melt the heart. I couldn't ask for a better story.
Book Info:

 Jan 17, 2017 | Harlequin | The Billionaire's Legacy #8
"I want that painting. It is my last Lost Mistress. My Lost Love."
Alessandro Di Sione is renowned for being cold and unsentimental, but even he can't deny his grandfather's dream of retrieving a painting steeped in royal scandal. Yet the key to its return is the outspoken Princess Gabriella.
While traveling together to Isola D'Oro to locate the mysterious painting, Gabby is drawn to the man tortured by guilt from his past. Her innocence makes her untouchable, as Alex is convinced his Di Sione blood is tainted. But could their passion be his salvation?