The Prince's Cinderella Bride by Christine Rimmer: "Lani" Vasquez had been working for her best friend for several years, most recently as they nanny for her two adorable children. At the same time she has been working on a set of novels based in the country she now calls home. Though her best friend understands that she's hiding she is doing it so well that no one else knows. Then on New Year's Eve everything changes.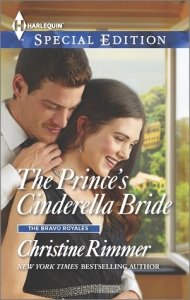 Maximilian "Max" Bravo-Calabretti a Prince by any other name… no seriously he is the crown Prince and a widow with two small children. He hasn't let himself date or even feel anything since his wife died. Is he so much in love or so hurt? All he really knows is once he sees Lani the entire game changes and he's no longer sure of what he wants the outcome to be.
Max and Lani know that things are going to change after that fateful New Year's Eve, but how much really depends on how much they are willing to trust each other. Will their pasts turn out to be minor roadblocks or will they be insurmountable?
Ms. Rimmer had me hooked with this book. Though it's book seven in a series it is not necessary to have read any of the other novels. I do warn you though once you read it you may want to go back and read the other books in the series. The well written characters take you into a world where, no life isn't perfect, but true love and family are always there to show you how stupid you are being and how wonderful life can be with the love and support of those who care. It was hard for me to put this book down to go back to real life for even short periods of time and even now I'm wanting more. Now I have to go find the rest of the series.
Book Info:

Published April 15th 2014 by Harlequin
From Texas nanny…to palace princess!
It should never have happened—the night of forbidden magic that turned Lani Vasquez and Prince Maximilian Bravo-Calabretti into lovers. After all, Lani knew all too well that an affair between a lowly nanny and the heir to the throne could only end in heartbreak—her own. Which was why she had to end it before she lost her herself completely…
His New Year's Eve with Lani had rocked Max's world—and now the Texas beauty wanted to be just friends? The single father had sworn he'd never marry again, but Lani had charmed his children and awakened his guarded heart. Will the prince catch his Cinderella before the clock strikes midnight?