Three Sisters by Susan Mallery is a superbly poignant novel that will leave you feeling deeply fulfilled!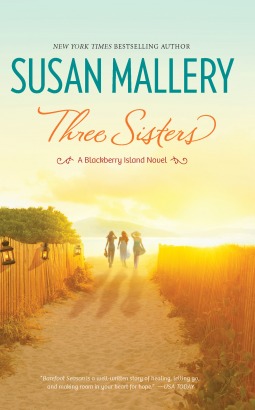 Andi Gordon was engaged to be married, but on her wedding day she was left stranded at the altar by her fiancé.  Trying to pick up the pieces of her life she makes the rash decision to move to Blackberry Island. She has bought one of the Three Sisters, a trio of Queen Anne houses located on the same street.  With plans to remodel and open a pediatrician's office she has hired hunky construction worker Wade King to work on her house.  Wade is recovering from his wives death to cancer. He finds Andi beguiling but he isn't interested in a committed relationship. Will these two come together to heal their past and find the love they so deserve?
Boston and Zeke King have been together since high school.  They have always had the kind of relationship that others are envious of. Their perfect world was shattered six months ago when they lost their infant son to a heart condition.  Each of them is grieving in their own way and is having trouble communicating with one another. Not understanding what each other needs is taking a toll on their marriage.  Will this couple be able find their way back to one another as they each come to grips with their loss?
Deanna Phillips appears to have it all, the picture perfect family and the flawless home, but behind closed doors life is anything but ideal. Her marriage to Colin is falling apart and her relationship with her five daughters is on shaky ground. She is struggling with the effects of abuse that she suffered from her mother as a child.  Will Deanna realize that not everything in her life has to be perfect before she ends up losing everything that she holds dear?
Three Sisters is book two of the Blackberry Island series. I haven't gotten the chance to read book one, but if book two is any indication of what the first story was like, readers are in for a real treat!
Susan Mallery is a master story teller!  She writes about family dynamics with deft precision.  I was pulled in from the very first word of the story and was captivated until the very end!  The characters are flawed but are very easy to relate to. The romance is tender and sweet. I found myself cheering on each of the couples as they worked toward their happily ever after.  I highly recommend this highly engrossing read to those who are looking for a book about love and friendship, grief and loss, family ties, and small town life!
Rating:

Book Info: Publisher: Harlequin MIRA; Original edition (February 26, 2013)
After Andi Gordon is jilted at the altar, she makes the most impetuous decision of her life – buying one of the famed Three Sisters Queen Anne houses on Blackberry Island. Now the proud-ish owner of the ugly duckling of the trio, she plans to open her own pediatric office on the first floor, just as soon as her hunky contractor completes the work. Andi's new future may be coming together, but the truth is she's just as badly in need of a major renovation as her house.
When Deanna Phillips confronts her husband about a suspected affair, she opens up a
Pandora's Box of unhappiness. And he claims that she is the problem. The terrible thing is, he's right. In her quest to be the perfect woman, she's lost herself, and she's in danger of losing her entire family if things don't change.
Next door, artist Boston King thought she and her college sweetheart would be married forever. Their passion for one other has always seemed indestructible. But after tragedy tears them apart, she's not so sure. Now it's time for them to move forward, with or without one another.
Thrown together by fate and geography, and bound by the strongest of friendships, these three women will discover what they're really made of: laughter, tears, love and all.