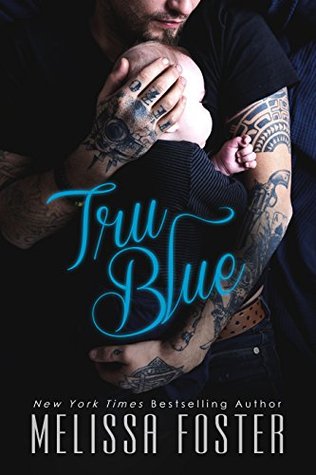 Tru Blue by Melissa Foster is sexy, emotional, and makes you wonder what would happen if the man you fell in love with, turned out to be a killer. Not everything is black and white and this author proves that.
Truman Gritt is out of prison and trying to pick up his life. His life prior to this hasn't been an easy one, but even though he had to do some questionable things, he still remains a good person. When Truman's brother calls him because of an emergency, Truman drops everything to get to him, only to find his mom dead and two crying babies in the background. Truman takes the babies and tries to do right by them. The babies have nothing, not even birth certificates, so even though they are his siblings, there will be trouble ahead.
Gemma Wright is at the right place at the right time when she meets Truman and his adorable babies. It's clear that he needs help with them and Gemma offers her assistance. Gemma loves children and even though she can't have any of her own, she doesn't let it get her down. Truman and Gemma have the instant chemistry thing going on, but Truman tries to reign his feelings in because of his past.
"Truman Gritt was not fooling Gemma, not for one second. He was a man who wore his emotions on his sleeve. Raw emotions. Real emotions, made clear in the way he looked at her, like a hungry wolf ready to devour his next meal."
Sooner than later, Truman and Gemma give into their feelings, and a relationship develops between them. Some might say they are one big happy family, but life is full of ups and downs and sometimes you have to fight to keep what you want.
True Blue is heartbreaking at times but the romance excels and makes this a one-of-a kind book, you don't want to pass up. If you enjoy strong characters, a story you can lose yourself in, and strong family devotion, this is a wonderful story to add to your to-read list.

Book Info:

 November 9th, 2016 | World Literary Press |
Imagine falling in love with a man, then finding out he was a killer…TRU BLUE is a sexy, dark stand-alone novel written in the same loving, raw, and emotional voice romance readers have come to love, and the deeply emotional literary prose women's fiction readers have come to expect, from New York Times & USA Today bestselling, award-winning author Melissa Foster.
He wore the skin of a killer, and bore the heart of a lover…
There's nothing Truman Gritt won't do to protect his family–Including spending years in jail for a crime he didn't commit. When he's finally released, the life he knew is turned upside down by his mother's overdose, and Truman steps in to raise the children she's left behind. Truman's hard, he's secretive, and he's trying to save a brother who's even more broken than he is. He's never needed help in his life, and when beautiful Gemma Wright tries to step in, he's less than accepting. But Gemma has a way of slithering into people's lives and eventually she pierces through his ironclad heart. When Truman's dark past collides with his future, his loyalties will be tested, and he'll be faced with his toughest decision yet.