Truly, Madly, Whiskey by Melissa Foster is romantic, sexy, and has the most amazing characters within the pages. Before I begin, let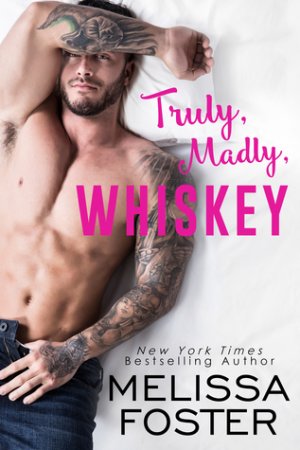 me just say that this cover, should come up with its own warning label. I don't think I've ever seen a sexier cover and I've seen many, many covers that have caught my eye, but this one takes the cake.
Bear Whiskey is an amazing character. He's sacrificed his time for the bar, he helps people out when they need it, and he waited for Crystal until she was ready. It's been eight months since he knew Crystal was the one for him and even though she kept giving him the run around, he stayed true to her. His character was sweet, sexy, and larger than life.
Crystal Moon has a very good reason for not immediately giving into Bear, no matter how sexy and irresistible he is. She had to learn to let go of her past and open up to someone before she was able to move on. With Bear, she is able to bare her soul, and eventually find the peace she was looking for. I loved her as a heroine. Crystal is creative, intelligent, and perfect Bear.
Both Bear and Crystal have issues they need to overcome in this story and being together makes their obstacles more manageable. Love can truly get you through anything, and Melissa Foster proves it with Truly, Madly, Whiskey. Overall, this book is delightful and I would highly recommend it!

Book Info:

Publication: April 10th 2017 | World Literary Press | The Whiskeys
In TRULY, MADLY, WHISKEY…
Eight months is a long damn time to have the hots for a woman who keeps a guy at arm's length. But Crystal Moon is no ordinary woman. She's a sinfully sexy, sass-mouthed badass, and the subject of Bear Whiskey's midnight fantasies. She's also one of his closest friends.
Just when Crystal thinks she has her life under control, scorching-hot, possessive, aggressive, and fiercely loyal Bear pushes all her sexual buttons, relentless in his pursuit to make her his.
The more Bear pushes, the hotter their passion burns, unearthing memories for Crystal that are best kept buried. But there's no stopping the collision of her past and present, catapulting the two lovers down an emotionally charged road that has them questioning all they thought they knew about themselves.