In Until We Touch (Fool's Gold #15) by Susan Mallery, Ex-quarterback Jack McGarry relies on his personal assistant and masseuse Larissa Owens on a daily basis. So when her mother drops a bombshell on him, saying she thinks her daughter is in love with him, he wants to run screaming from the room. Even though Larissa denies the claim, Jack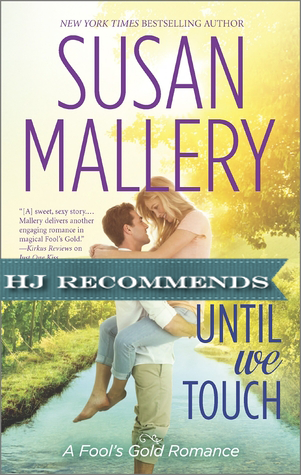 notices their relationship has shifted from one of best friends to one of unexplored sexual tension. It would be crazy to act on the attraction that he realizes has been there from day one. Right?
"I don't know. I'm pretty hot. I could understand you having a thing for me. You've seen me naked. Now that I think about it, your reaction is inevitable." He sighed. "You love me. Admit it."
Larissa's mouth twitched. "Jack, you're not all that."
When Larissa isn't working as Jack's assistant and Score's masseuse, she gives her time and resources freely to worthy causes. It makes her feel good to rescue and help those in need. But one day she'd like to take time for herself, get married and have kids. Her mother tries to push her into that frame of mind by pointing out Larissa's growing feelings for Jack before she even realized how she felt. Now things are awkward between them and she doesn't know how to handle it. Should she pursue a relationship or try to remain best friends?
'She didn't know what was happening with Jack. None of it made sense. Not the attraction, not the kissing. She only knew that he was a constant in her world and she never wanted that to change.'
Until We Touch was an emotional rollercoaster of a novel. Especially the last quarter or so of the book where, if you're anything like me, you'll want to hit Jack up beside his foolish head for being so stupid! lol
If you can believe it, this is book fifteen (!!!) in Susan Mallery's uber popular Fool's Gold series, and to me it still seems just as fresh as book one. All of the longstanding key players and their businesses are mentioned throughout the story, giving it that sense of community I have come to expect from this series. And as always, the writing was so concise and fun that I breezed through Larissa and Jack's story in one night. I must say I was a little sad to see it end, although there will definitely be more to come later this year.
I've really enjoyed getting to know the guys and ladies who work at Score in the last couple of books. Jack and Larissa definitely interested me right away. And Larissa was every bit as sweet as she seemed to be. But I was surprised that she carried around a lot of guilt, which was what really drove her to invest in all those special causes to help animals and people. She was also a good balance to Jack's gruff demeanor, I thought. Once we got the details of his childhood, his attitude made more sense to me and I warmed up to him quite a bit, until the end. Of course in every book there is some kind of conflict that leads to the HEA ending, and boy this one was a doozy. I'm not afraid to say I was really mad at Jack and would have made him pay. You'll see…
I think fans of contemporary romance will really enjoy Until We Touch, especially the massage scenes between Jack & Larissa. 😉 Now I'm looking forward to Kenny's story next time!
Book Info:

Published June 24th 2014 by Harlequin HQN
From New York Times bestselling author Susan Mallery comes the story of secret desires finally fulfilled…
After a family tragedy, former football hero Jack McGarry keeps the world at arm's length—a challenge now that his PR firm has moved to neighborly Fool's Gold, California.
Larissa Owens knows where she stands—Jack sees her as just another one of the guys. No matter what her heart wishes, Jack's her boss, not her boyfriend. But then Larissa's big secret is revealed…by her mother!
When Jack discovers the truth about Larissa's feelings, her touch suddenly becomes tantalizing, and he's not sure he wants to resist. But if he gives in to desire, heartache is sure to follow. Friendship or true love—will Jack go for the ultimate play?