In Waking Up in Vegas by Romy Sommer, Phoenix is currently a waitress in Vegas. She is a free-spirit, with no intention of settling down and committing to anyone. She's in Vegas "for the memories, a final adieu to her parents before setting off alone in the world."
Max is in Vegas to escape his world and to "…celebrate the fact that it feels good to be alive." He is someone you'd never expect to meet in Vegas, let alone wake up married to! Much to Phoenix's dismay though, that's exactly what's happened. She was out at a bar playing pool with her friend,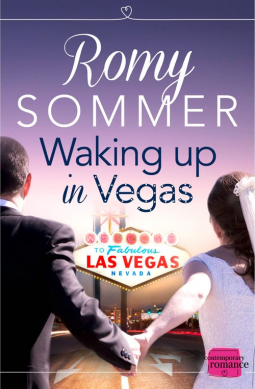 having a few drinks, then…nothing! That's all she can remember, and suddenly she's waking up in a very posh hotel suite, covered in gold glitter, and apparently married to Max.
Phoenix immediately wants a quick divorce, but Max will have nothing to do with that idea! He certainly didn't expect to find his true love in Vegas and get married, but that's what happened and he's not going to change a thing. It's going to take a lot of convincing for Phoenix though. Max is one big mystery to her, and Phoenix thinks she has secrets hidden from him. Little does she remember she actually told him everything there was to know about her the night of their wedding, and he was open and honest with her about who he is. Max doesn't tell her all this right away though…but he does get Phoenix agree to spend some time with him, and Phoenix really can't resist him! Inside, she can see why she married him and…
"…a sneaky feeling had started to creep up on her … that she hadn't really been alive until she met Max. She'd done crazy things before…yet somehow simply being with someone who warmed her from the inside out, was a whole different kind of rush."
As Phoenix is getting used to the idea of being with Max more and more, he still hasn't told her who he is. When he can't get a hold of Phoenix and has to leave urgently due to a family crisis, Phoenix is more hurt than she'll admit to even to herself. She takes off, leaving Vegas and those memories behind. But has she really? She can't stop thinking about Max, and he can't stop trying to find her! When he finds her and the truth comes out, can their marriage survive it? Max does not want to let his true love go, he wants her with him. But is that a place Phoenix can be or will she feel the sacrifice is too great? Can Phoenix have a fairy tale ending?
Max and Phoenix come from completely different backgrounds, but as you read more about them you realize they are more alike than it first appears. Both of them have very strong personalities which can make for a lot of fun reading! Knowing their history brought the characters to life and helped me understand who they are today. Max's world changed the moment he saw Phoenix and fell in love at first sight. He is relentless, but subtle in his pursuit of her even after their marriage. He believes Phoenix is his destiny and he is really quite a romantic!! Phoenix is not so convinced there is such a thing as love at first sight, let alone a happily ever after…and it doesn't help she can't remember a thing about that night! She is immature compared to Max, trying to push his buttons and push him away…but it won't work!
For a quick read, the characters were well developed, I got a good sense of their personalities! Romy gives us a great background on both of their families, but I would have liked a little more follow up on the little mystery that's popped up in Max's family. That's the only loose end that I would have like tied up at the conclusion of Waking Up in Vegas.
Romy Sommer gives us a fun, sexy romance filled with every emotion. Waking Up in Vegas was a well written modern day fairy tale that will leave you with a smile on your face.
Book Info
Publisher: HarperImpulse; ePub ed edition (May 9, 2013)
What happens in Vegas…
Waking up to the bright lights of Vegas in an unfamiliar penthouse suite, cocktail waitress Phoenix Montgomery finds she's covered from head to foot in gold glitter and not alone – aside from the empty bottle of champagne, there's a mystery man in the shower and a huge sparkly ring on her finger!
Stays in Vegas?
There's no denying Max Waldburg's demi-god sex appeal but commitment-phobic Phoenix doesn't do relationships. Only it seems her new husband (agh!) has other ideas…he's trying to keep that ring on her finger and his wife firmly back in his bed. The only question on her lips is – why? Or maybe, why not?