True by Erin McCarthy is one of those books that you just can't and won't put down. Though this is a light contemporary New Adult book it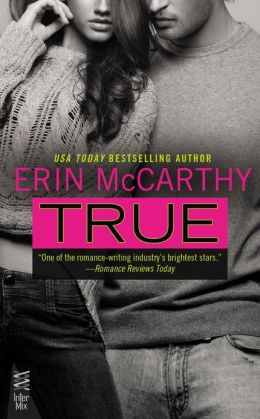 does have some darker themes. So if you don't like having certain emotional issues that are hard to deal with in your books, this may not be a book for you. I personally loved Ms. McCarthy's debut New Adult book to be very good, the characters were extremely realistic and relatable, but also had enough flair to make it possible for the reader to journey out of the real world and into a fictional world of brand new relationships.
Rory and Tyler had a sort of instant chemistry, that being something that helps the reader develop an instant connection with their relationship. One aspect of this book I found to be truly unique was when Rory's friends set her up with Tyler they managed to convince her to go out with him in the best possible way for her personality.
"True" is one of those books that will be sure to stick with you. With the increased interest in this up and coming genre many people won't and shouldn't pass up the chance to read this dramatic and beautiful story.
Book Info:
Publisher: InterMix (May 7, 2013)
A New Adult novel from USA Today bestselling author Erin McCarthy
When Rory Macintosh's roommates find out that their studious and shy friend has never been with a guy, they decide that, as an act of kindness they'll help her lose her virginity by hiring confident, tattooed bad boy Tyler Mann to do the job…unbeknownst to Rory.
Tyler has told Rory that he's not good enough for her. She's smart, doctor smart, while he's barely scraping by at his EMT program, hoping to pull his younger brothers out of the hell their druggy mother has left them in. But he can't seem to stay away from her, and even when Rory knows she should push him away, something about him makes it nearly impossible for her to resist—even though her heart is at stake…
Torn between common sense and desire, the two find themselves caught up in a passionate relationship. But when Tyler's broken family threatens to destroy his future, and hers, Rory will need to decide whether to cut her ties to his risky world or follow her heart, no matter what the cost…