In When We Found Home by Susan Mallery, Malcolm Carlesso is used to handling board meetings,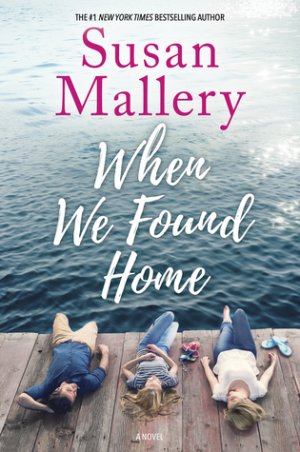 running a multi-million dollar company, and having to make tough business decisions. But dealing with his long-lost half-sisters, preteen Keira and late twenty-something Callie, moving into the family home puts him in over his head. Malcolm doesn't show his emotions easily after being burned by not only his father but also his ex-girlfriend. But slowly Callie and Keira get him to open up. As does a local barista named Delaney. He's not sure he's ready to have a full-fledged romance with her–or that he's going to join his sisters for a girl's night in–but Malcolm has to admit that his life is that much better for having them all in it now.
'He liked to think he was inexperienced when it came to children rather than the asshole brother Keria's phone had proclaimed, but he had a feeling she was more correct than him.'
Callie has been struggling to make ends meet and to stay on the right side of things for a few years now. She's made peace with her past for the most part–which wasn't easy–and hopes her future will prove to be much more positive. Finding out that she has two half-siblings and stands to inherit part of a business as well as a large chunk of money was something that never crossed Callie's mind. And even though she's afraid she'll mess things up, she heads to Seattle to meet the family.
'Maybe she was due for some good luck, she thought wistfully. Maybe, just this one time, she was going to get a break.'
Not sure where she fits in, Callie has a tough time seeing eye to eye with Malcolm. On the other hand, she and Keira mesh together perfectly. When she also meets a handsome man with eyes only for her, she can only hope that her new luck holds and she can have everything she's ever dreamed of. But just when it seems all three siblings are finally heading in the right direction, as a new family unit and in their own personal lives, things begin to crumble around them, leaving Malcolm, Keira and Callie to draw strength from each other in order to push through their emotions.
"I promise I will do my very best to always take are of you," he whispered. "For always. I swear."
Her thin arms tightened around him. "I know. I love you, Malcolm."
Her words caught him off guard. His throat tightened and it was a second before he could speak. "I love you, too, Keira."
A lovely work of fiction about the complexity of family relationships, what it takes to make lasting connections, and overcoming past insecurities and issues, When We Found Home was wonderfully touching and absolutely heartwarming.
'A few months ago she'd been utterly alone in the world and now she had enough love and support to last a lifetime.'
Susan Mallery's books are always a joy to read. I love the flow of her writing, the emotions she touches upon, detailing them perfectly, and of course her characters who are flawed and relatable. When We Found Home turned out to be more emotionally involved than I thought it would be at first glance. And I loved that about it. Each character had their own journey to take and it was where their paths intersected and where they helped (or sometimes hindered) each other that was the most interesting parts to me. The plot itself was a captivating one. Although I could see where some things would lead and who our two couples were going to be, there were still some little surprises along the way that made this a page-turner.
There are a few too many characters to get into a lot of detail about them individually, but I can say that half-siblings Malcolm, Callie and Keira had their work cut out for them. Coming together to all live in their grandfather's mansion and figure out how to coexist was as fun to watch as it was bittersweet at times. Malcolm was the socially awkward one who had a tough time getting emotionally involved with Callie and Keira. Their backstories kind of wrecked me, and I'll admit to some sniffles as we learned more about them. It was nice though to also have some romance involved in the storyline, with Malcolm finding love, as well as Callie meeting someone who adored her. Even that wasn't smooth sailing of course. But as one would expect from Mallery, the couples earned their HEA and were well on their way to savoring every moment by the end of the book.
Tender and poignant, but with some lighthearted scenes that will make a reader smile ear to ear, When We Found Home is the type of story that will make you sigh dreamily over the happy outcome. And then you'll want to go back and immediately start the journey all over again.

Book Info:
Michele H| 4 Stars | HJ Recommends | No |
Publication: Expected publication: July 10th 2018 | by HQN Books |
Life is meant to be savored, but that's not easy with no family, limited prospects and a past you'd rather not talk about. Still, Callie Smith doesn't know how to feel when she discovers she has a brother and a sister–Malcolm, who grew up with affection, wealth and privilege, and Keira, a streetwise twelve-year-old.
Callie doesn't love being alone, but at least it's safe. Despite her trepidation, she moves into the grand family home with her siblings and grandfather on the shores of Lake Washington, hoping just maybe this will be the start of a whole new life.
But starting over can be messy. Callie and Keira fit in with each other, but not with their posh new lifestyle, leaving Malcolm feeling like the odd man out in his own home. He was clever enough to turn a sleepy Seattle mail-order food catalog into an online gourmet powerhouse, yet he can't figure out how to help his new sisters feel secure. Becoming a family will take patience, humor, a little bit of wine and a whole lot of love.
But love isn't Malcolm's strong suit… until a beautiful barista teaches him that an open heart, like the family table, can always make room for more.
In this emotional, funny and heartfelt story, Susan Mallery masterfully explores the definition of a modern family–blended by surprise, not by choice–and how those complicated relationships can add unexpected richness to life.