In Wicked Whiskey Love by Melissa Foster, Sarah Beckley has escaped an abusive relationship. With two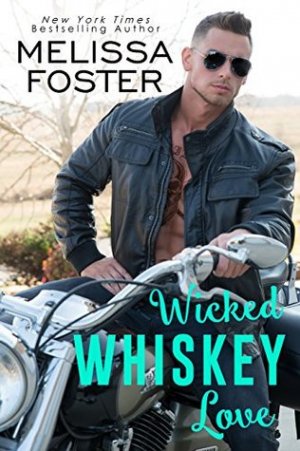 young children and one on the way, she finds a home, and friends, in Peaceful Harbor. One of those friends, Wayne "Bones" Whiskey, wants more than friendship from her. With Sarah's trust issues, Bones will have to break out all the stops to prove to Sarah that she can trust him with her children, as well as her heart.
All I can say is that Melissa Foster has outdone herself with Wicked Whiskey Love. Readers will feel for Sarah and all that she has been through. They will also admire the strength she has to not only survive it all, but to keep going to make the best life possible for her children.
Bones has become my absolute favorite character out of all of the author's books. Not only is he a doctor, but he's part of a biker group known as the Dark Knights, which was started by his grandfather and now headed up by his father. The group stands up for those who cannot stand up for themselves, including women in abusive relationships. He's great with Sarah. He never pushes her for more than she's comfortable with, and I loved his relationship with Sarah's children. His interactions with them were very sweet, and he acted like a father to them even though he wasn't. One of my favorite scenes was when Lila took her first steps.
"She walked to you, Bones!" Bradley chimed in.
"She sure did." And it was incredible. He'd never felt so much pride, and she wasn't even his child. He lifted Bradley into his arms and couldn't resist hugging the three of them.
As he gazed into Sarah's happy eyes, she said, "She walked to you. That was amazing."
"She let me in," he said truthfully. "If I'm lucky, her mama will, too."
The other Whiskey siblings–Bullet, Bear, and Dixie–are featured in the book, as is Tru and Gemma and their children, for those who have read the book Tru Blue. It was great catching up with them and seeing, once again, how supportive they are of one another, as well as of Sarah and her children. There are times their interactions are serious, but they have plenty of fun with one another, too.
"I have a big-girl bed," Kennedy said louder. "But Linc is a baby. He sleeps in a crib."
"So does Lila," Bradley said. "But Mommy sleeps in a big-girl-boy bed."
Silence fell over the table, amused eyes turning to Sarah and Bones.
"I'll bite," Bear said. "What's a big-girl-boy bed? Sounds fun."
"It's a bed where a girl and boy sleep together, like Bones and Mommy," Bradley looked at Sarah, who was sure her cheeks would burn right off, and said, "Right, Mommy?"
"Outed by a three-year-old," Bullet said under his breath. "Gotta love it."
For those who haven't read the previous books in the series, or haven't read Tru Blue, you'll be ok to read this one anyways. The author crafts her stories in a way that allows each of them to work as a standalone. Having read the previous books as well as Tru Blue, I do recommend them as well, simply because they're all good. It will also give you an opportunity to get to know the other family members better.
Melissa Foster has created a story with the perfect blend of angst, humor, and steam. The Whiskey's are loyal, supportive, and protective–definitely the type of family anyone would want to have by their side. Readers are in for a treat with Wicked Whiskey Love.


Book Info:

Publication: November 7, 2018 | World Literary Press | The Whiskeys #4
After escaping abusive parents and, later, an abusive relationship, Sarah Beckley has spent a lifetime watching snakes shed their skin. With two small children to care for and another on the way, she's finally found a home in Peaceful Harbor with the brother she hasn't seen in more than a decade. She's still searching for her sister, but life is good. If only she could stop thinking about the sinfully sexy doctor/biker who has taken to her children like a loving uncle-and to her like a hungry man.
Trust doesn't come easily for Sarah, but Bones Whiskey is patient and protective, amazing with her children, and he looks at her like she is the only woman he could ever want-and more. With two little ones underfoot, Sarah expects him to move on quickly, yet with every tender kiss and each trying moment with the children, Bones surprises her. But will the fiercely loyal biker stick around when Sarah's worst secret is revealed, or will he shed his skin, too?