A Threat To His Family (Longview Ridge Ranch #2) by Delores Fossen: Bullets are flying,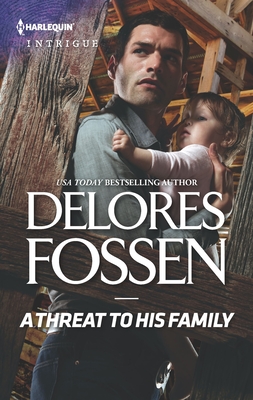 suspects keep popping up and romance is in the air in Delores Fossen's latest romantic suspense book.
Laney Martin is determined to keep eighteen-month-old Naomi Slater, daughter of widower ranch owner and deputy sheriff Owen Slater safe. Laney had been in the kitchen with Naomi when the power went off. At the sound of a man entering the house through the front door Laney picked up Naomi and hid in the pantry. When she heard the man, who she knew wasn't Owen, going up the steps to the second floor she ran out the backdoor towards the barn. She had just gotten into the barn and started hiding in the back corner next to some hay bales when a man entered the barn. Her fear increased and then turned to relief when Owen announced he was there. Laney had no idea what was going on, but she knew it was nothing good. Nope! Not good at all! Things went from bad to worse when shots were fired. Laney knew Owen would have lots of questions to ask her. Time to fess up. She hoped Owen wouldn't be too upset with her since she was attracted to him and loved spending time with Naomi.
After the shootout ended Owen did, indeed, have lots of questions for his gun-toting ranch manager Laney. Or as he came to discover Elaine Pierce. How dare she put his daughter in danger. Her answers better be good!
A Threat to His Family by Delores Fossen is the second book in her Longview Ridge Ranch series. I have come to expect lots of action and suspense in this author's romantic suspense books and this story most definitely does not disappoint. The plot is full of mystery and plenty of suspects to investigate. I had to keep turning the pages to see if my guesses were correct. Delores Fossen kept me guessing until the end. The Slater brothers once again came together to keep all in the family safe. I really like the tight family ties of these brothers. I really enjoyed Owen getting teased by brothers Jack and Eli. Typical brothers!
Don't start reading this book too late in the day or you will be losing sleep because I bet you won't be able to put it down until the very end.
Book Info:

Publication: December 17th 2019 | Harlequin Intrigue | Longview Ridge Ranch #2
He'll protect his child at any cost.
After discovering an intruder in his home, Deputy Owen Slater is terrified when he can't find his infant daughter. He soon discovers his ranch manager is keeping her safe, leading him to realize Laney Martin is more than she seems. For the usually professional investigator, this case is extremely personal, and it leads right to Owen's family. To get to the truth, they'll need to work as a team, relying on every weapon in their arsenal—and sharing secrets they buried long ago.