Today it is my pleasure to welcome New York Times bestselling author
Katy Evans
to HJ!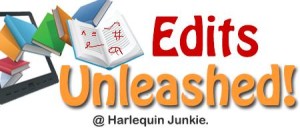 "Edits Unleashed"

 gives authors an opportunity to share with readers deleted scenes that did not make it through the final edits into publication.
Today, Katy will be unleashing edits from her book MINE.
Thanks so much for having me over at HJ!!
The book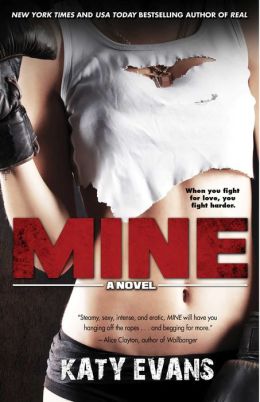 He's mine, and I'm his. Our love is all-consuming, powerful,
imperfect, and real… – Brooke.
From the author; I have never been so emotionally sucked into a book or characters as I was with MINE. I laughed, ached, cried, rooted for them, and felt their love leaping out of every single page. I was beyond touched with their love, understanding, and fierce protection of each other.
The Characters
Remington Tate is every woman's fantasy….including Brooke's.
But there is a side of this sexy Underground fighter he keeps hidden. A side that continues breaking what he touches, ruining what he cares about. He's determined for this part of him not to ruin what he has with Brooke….
But Brooke Dumas wants him. She wants all of him, and she doesn't want him to hold back. As an ex-sprinter, she knows what it is to train your body hard enough to ache for days after, ache enough that you can't walk. She aches now, but the only way the ache will leave is for Remington to finally make her his….
The Scene
In the 1st book of the series, REAL, Brooke meets Remington Tate, a sexy Underground fire who makes her burn with wanting. While they try to have a relationship, she senses he's holding back….something dark, something that torments him, day and night, and something that can tear them apart.
When she learns the truth, she isn't sure if they can be together, but they try.
MINE is the continuation of their raw, passionate story of love and passion….
Edits Unleashed:
It's dark and I'm snuggled into something hard, my face buried in the nook of a warm, thick, delicious neck.

Moonlight steals through the hotel room window, and it feels like all those cool rays want to caress is the flesh of the large form besides mine. The perfectly muscular form I have been sleeping with for the past sixty-three days. My insides warm, and when I run my gaze down the length of his large, ripped body, I want to bury myself against him for the next decade until I don't know where he begins…and I end. He. He who occupies my every thought, embodies my every desire. The man I live with, love with, laugh with, run with, train with.

He's been called many things in twenty-six years, this man. Crazy. Dangerous. Hot. He's been called sexy, bastard, asshole, beast, a combination of them all. Mercurial. Rogue. Rich. Cocky. But nobody had ever called him their love.

Until I did.

He lies naked in my bed, Remington Tate. "Riptide." Two hundred plus pounds of pure lean muscle, manly tan, and raw animal appeal. His assistant, Pete, and his coach's second, Riley, have been letting us sleep until ten on off season, but it still doesn't seem like I can ever spend enough time with him.

The new Underground season begins tomorrow, and I will sorely miss having him all to myself. His training hours will hike up. His fights will be lined up to several a week. All this might not be a problem if he hadn't completely spoiled me during the fall. Where there were no women screaming his name, begging him to fuck them. Where there was nothing but us. Me and my real.

I feel that ache inside me grow, coupled with those butterflies that appear every time I wake up next to him.

"Remington," I whisper, running my hand up the muscled curve of his back. He's prostate face down, one arm slung around my waist, heavy like lead, the other over his pillow, where his face is buried. I lift the arm around me and bring his fingers to my lips. "Remy," I try again in a whisper, kissing his recently bruised knuckles.

His breathing is slow and even, and he doesn't stir. The clock keeps advancing on the nightstand, every minute approaching the time Riley will knock on our door. Restless, I tug the sheet down his narrow hips, down his perfect buttocks, and toss it to his ankles by the end of the bed.

His breathing halts, then he shifts his head sideways with a grunt as he palpates my body and grabs my hipbone to drag me closer.

"Come here," he murmurs, pulling me into him. He spoons me, engulfing me in his arms as he starts to nuzzle my neck. His teeth catch a piece of my skin and his tongue steals out to taste me. Need rushes through me, and I close my eyes, absorbing the feel of his arms around me, his lips nibbling me.

He's so big, he makes me feel small and precious.

I love that he's always up for sex. Sometimes even more than I can handle, and I end up hearing him taking a shower in the middle of the night. But he loves it when I'm this wet and eager, so I take his hand and slide it down my abdomen. He instantly delves his finger at the apex of my thighs—and then into me. His groan, thick with approval and lust and warm against the back of my ear, races through me.

His thumb makes a pass over my clit at the same time he moves his long finger in the way that makes me catch my breath in red-hot pleasure. He grazes his teeth along the shell of my ear, lightly biting as he tenderly murmurs, "You're so ready."

I toss my head back against his shoulder with a moan, twisting in search of his mouth. "Remington…"

"Turn around to me," he says, his voice rumbling from deep in his chest.

I turn in his arms, and our eyes meet in the shadows. Love races through me at the sight of his drop-dead gorgeous face and the soft, tender smile he wears. His eyes, those electric blue eyes that make me breathless, are full of heat as he slips his finger back inside me and watches. His gaze is so liquid, it melts me even farther.

Twining my arms around his neck, I rock my hips to his touch, opening my lips under his delicious mouth. I need him so much. I need him to make love to me before we need to leave this bed and I have to spend ten hours of the day wanting him. I've been back for two months, and I still can't get enough. I crave him like air, water.

His thumb enters me. I gasp and bite his shoulder, my sex clenching desperately around him.

Sensing my urgency, or maybe seeing I couldn't possibly get any wetter, he rolls me under him and curls my leg around his hips, then he enters me. I gasp and claw my nails down his chest, shattered with sensations. "Ohhh," I moan.

His eyes glow on my face. We say nothing else, but quiet grunts and moans in the dark, the mattress squeaking with his rocking motions. I'm so soaked I hear the slippery sound of him moving in me, big and hard and so penetrating, I feel him up to my heart.

He kisses my mouth, gently but fiercely, then he ducks to suck my breast, grabbing it up higher to his mouth, taking possession of it like it belongs to him. Licking, nipping, sucking, kissing. He whispers against my nipple, beautiful…perfect…mine…, and I burst open in an explosion of colors, hearing my name in a deep moan against my flesh as he comes.

When I fall limp under him, he props up on his elbows to spare me his weight, our chests heaving in rhythm. His eyes are dark and liquid in the moonlight, and as he brushes my hair back, my chest floods with heat again.

I swear that I will never, ever, get used to the way he looks at me. He adores me with those blue eyes, up close and from afar.

I stare back at his beautiful face, his perfect jaw, the perfect curve of his smiling lips, smiling a dopey smile back at him. It's not about sex with him. It's about that other emotion I'm feeling for the first time in my life—and so is he.

I cup his jaw, run my fingers through his hair.

Tilting his head, he lands a dry kiss at the center of my palm, then buries his face in my neck and inhales contentedly. Easing his weight back down on me, his arms slide under my body, around my waist, and he shifts me so he doesn't crush me, both of us struggling to calm down our breathing so we can sleep.

I wrap my arms around his waist and tuck my face into his neck, sighing.

I miss home sometimes. My family. I miss my best friend Melanie. But it will never compare to the way I missed him when I left. I can't imagine ever leaving again.

Tomorrow I need to share him with the world, but right now, he's mine, and as we drift off to sleep, he adjusts me against his body …letting me know I'm his.
Book Info:
In the international bestseller REAL, the unstoppable bad boy of the Underground fighting circuit finally met his match. Hired to keep him in prime condition, Brooke Dumas unleashed a primal desire in Remington "Riptide" Tate as vital as the air he breathes . . . and now he can't live without her.
Brooke never imagined she would end up with the man who is every woman's dream, but not all dreams end happily ever after, and just when they need each other the most, she is torn away from his side. Now with distance and darkness between them, the only thing left is to fight for the love of the man she calls MINE.
Book Links:
Author Bio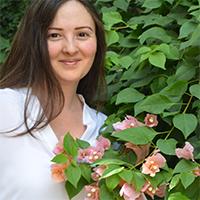 My Life in 8 Words: "Hectic, wonderful, complete; everything I ever wanted."
Katy Evans grew up with books and book-boyfriends until she found a real sexy boyfriend to love. They married and are now hard at work on their own happily ever after. Katy loves her family and friends, and she also loves reading, walking, baking, and being consumed by her characters until she reaches "The End." Which is, hopefully, only the beginning…
Website | Facebook | Twitter |
Thanks for blogging at HJ!
Giveaway:

An ebook copy of MINE

, the sequel to REAL! 🙂
To enter Giveaway: Post a comment to this Q: 

What is it that you most love about an alpha male hero? 
Did you enjoy reading the deleted scenes? What was your favorite part?
Please note: This contest will close on Friday April 18 2014 at 8:59 PM (PT) and the winners will be notified via email and on this Post. Winner will have 48 hours to respond to my e-mail before a new winner is selected. All entrants must adhere to HJ's official giveaway policy.