In The Dark by Sally Eggert, Josie Nielsen lives an anonymous life as a bartender. She used to work for a covert agency that kept lots of secrets, not that she knew any of them since she had a boring desk job. But one night someone she trusted and thought she loved betrayed her and got her almost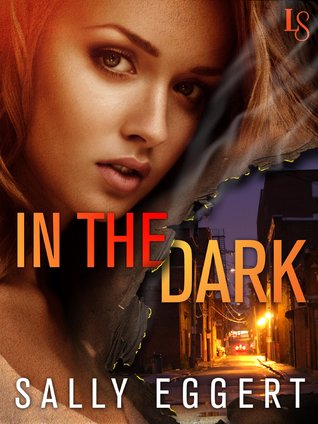 killed. So she packed her life and moved to a small room above the bar where she now works at
Her life is monotonous and simple, but that is the way she wants it. She wants nothing that can put her in the same situations she found herself in before. The only thing that is not monotonous in her life is Johnny Boyer, he is a regular at the bar and seems a bad boy, a charmer and a man of mystery. Many women try to get his attention but he always brushes them off. Unlike with her, since he tends to warm her bed but they both know that there are no strings attached to what they have.
To make things more interesting, one night Peter Shand, an agent she used to work with, shows up and renews his acquaintance with her. He asks her to consider going back to work with the agency under his charge, and gives her a card. But that is not all, he also asked her to continue seeing Johnny and try to gather information for them, since he has been under investigation to stop a deadly drug the organization he works for is shipping into the country. Now not only is her past making a reappearance in her life and threatening her fragile state of mind, she also has to deal with a possible betrayal in her present relationship too.
Josie will have to choose between her duty and her growing feelings for Johnny. But she will have to be strong to be able to face the danger that is coming and to fight for what she truly wants.
For a great suspense novel full of twist and turns that will keep you wondering what comes next, make sure you don't miss In The Dark by Sally Eggert.
Book Info:

January 28th 2014 by Loveswept
A woman drawn into a dangerous game. A man who may not be what he seems. Passion raises the stakes in Sally Eggert's electrifying novel of deception and desire.
Josie Nielsen's anonymous life as a bartender is a world away from her classified job at a covert agency—and the terrifying night she was almost killed for her country's secrets. That was the night Josie found out the hard way that no one had her back, especially not the man she thought she loved. But she's pulled back in when her new boyfriend becomes the target of a government drug sting.
A sexy, laid-back barfly, Johnny Boyer is the kind of guy Josie can count on . . . to disappear before things get too complicated. But after she learns that Johnny is part of a major international trafficking operation, Josie can't let him out of her sight. And yet even as she plunges into the mortal danger that surrounds Johnny, her attraction to him burns hotter than ever. She just isn't sure whether she's falling for a ruthless, cold-blooded criminal or the only man she's ever met worth trusting with her life.