INTRODUCING GRAYDON HOUSE BOOKS
Expansion of Harlequin's Trade Publishing Program Continues with Launch of New Imprint.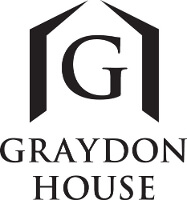 Genres: Women's fiction (range from lighthearted humor to emotional tearjerkers and edgier drama).
Formats: Trade paperback and hard cover only
Launch month: September 2017
Graydon House will launch with HOW TO BE HAPPY by Eva Woods: Described as Me Before You meets Beaches, the novel explores the unlikely friendship between two very different women—one has reached a crossroads after a shattering tragedy imploded her marriage and the other has just been given three months to live—who jointly embark on an unexpected journey toward redemption, love and happiness.
Other exciting titles from Graydon House's inaugural list include:
Now That You Mention It by Kristan Higgins: Humorous and bittersweet story of a woman who returns to her hometown on a remote island in Maine after a decade's absence hoping to resuscitate her relationship with her family, only to discover that her homecoming is not as welcome as she had imagined. Higgins, a five-time nominee for the Kirkus Prize for best work of fiction, is the author of more than a dozen novels, many of which have been translated into more than twenty languages.

Perfectly Undone by Jamie Raintree: A young doctor struggles with the role she may have played in her sister's death amid her own unraveling relationship.

House of Shadows by Nicola Cornick: A time-slip mystery that weaves together the lives of three women, each separated by hundreds of years but bound by the enduring effects of one lie.

My Last Love by Falguni Kothari: An unconventional tale of a dying man looking to set up his wife with her former lover, who happens to be their mutual best friend.
Best Day Ever by Kaira Rouda: A riveting novel of domestic suspense about a husband who takes his wife on a romantic weekend getaway but who may, in fact, have more sinister intentions.

Burned by Emily Belden: Follows a young woman thrust into the Chicago restaurant scene when her recovering addict turned celebrity chef boyfriend vanishes after she sinks her life savings into his hip new restaurant.
For more information on Graydon House Books, please visit GraydonHouseBooks.com.

About Harlequin
Harlequin (Harlequin.com) is one of the world's leading publishers of books for women, with titles issued worldwide in as many as 32 languages and sold in up to 93 international markets. The company publishes more than 110 titles monthly and more than 1,300 authors from around the world. Harlequin is a division of HarperCollins Publishers, the second-largest consumer book publisher in the world, and has operations in 11 countries. For more information, please visit Harlequin.com and Facebook.com/HarlequinBooks. Follow Harlequin on Twitter: @HarlequinBooks.