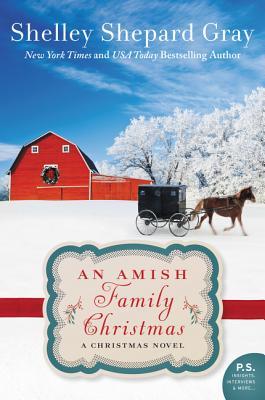 An Amish Family Christmas: A Charmed Amish Life Christmas Novel by Shelley Shepard Gray: You might say this was a Shelley Shepard Gray reading marathon this weekend! As well as a Charmed Amish Life series marathon! Another book that was impossible to put down! In "An Amish Family Christmas" we return to the lives of the Kinsinger and Kurtz families, and we are introduced to Julia and her daughter Penny, who are trying to carve out a new life for themselves in Charm.
Levi Kinsinger has returned from his Rumschpringe, and is temporarily renting a home near Julia's- he becomes quite involved in her and her daughters life, not realizing the past Julia is determinedly trying to escape. Julia is determined that her abusive ex boyfriend, who is Penny's father, will not find them. We also witness Simon and Amelia's growing closeness and engagement. Simon's siblings have returned to town, and his sister in particular tries to help Julia, as Simon and his siblings were abused as children. Simply a beautiful, touching story.
I identified with this in part because of having experienced a relationship years ago in which the other person was obsessive and a stalker- it is very frightening to be on the receiving end of this. So i could feel Julia's fear. And I cheered as she started to trust Levi and others in town. This is such a beautiful love story as well as a meaningful story about the importance of family, and how family can take many forms. Readers who have grown to love the Kinsingers and Kurtzes are not going to want to miss this!
Book Info:

 October 18, 2016 | Avon Inspire HQN | A Charmed Amish Life
In Shelley Shepard Gray's fourth book in her Charmed Amish Life series, an unlikely Amish romance reveals that Christmas is a time for family, miracles—and love.
Ever since his father died in a tragic fire, Levi Kinsinger has felt adrift. Newly returned to Charm, Ohio, Levi is trying to fit into his old life, only to discover he seems to have outgrown it.
But when Julia, his young widowed neighbor, asks for his help with a Christmas project, Levi finds a sense of purpose for the first time in months. She and her daughter are new to Charm and could use a friend, a job Levi takes personally. Soon enough, friendship grows into attraction, but Levi can't help having doubts. There's something about Julia that doesn't ring quite true…
Like Levi, Julia Kemps has survived her fair share of hardships—but only by hiding the truth of her past. Being an unmarried mother in an Amish community was unthinkable. Feeling hopeless, Julia did the only thing she could do: she moved to a new town and pretended to be a widow. But meeting Levi, she's hopeful for the first time. Little by little, she begins to imagine telling him her darkest secret, and eventually…perhaps even sharing her life with him.
Christmas is a time for family, and as the holiday draws closer, Julia and Levi will have to face their pasts together…in order to find the healing, support and love they so desperately desire.