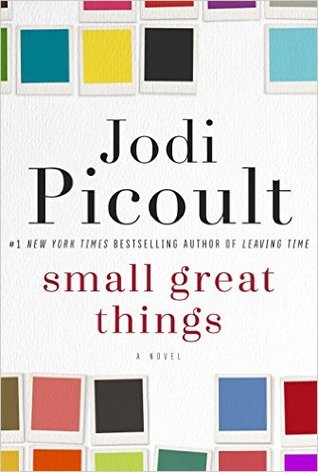 In Small Great Things (Ruth Jefferson #1) by Jodi Picoult, Being a labor and delivery nurse is all Ruth Jefferson has ever known and has ever aspired to be. For twenty years she has taken excellent care of her patients and shown them compassion in all situations. The fact that she is African American has never factored in until new parents Turk and Brittany Bauer demand to have her removed from their room and barred from caring for their son Davis. The young parents are white supremacists and make it perfectly clear that Ruth is not to touch their baby. Although she feels slighted for something she can't control–her race–she turns over care to one of the other nurses on duty.
"The State doesn't care what your supervisor said," the union lawyer replies. "The State just sees a dead baby. They're targeting you because they think you failed as a nurse."
"You're wrong." I shake my head in the darkness, and I say the words I've swallowed down my whole life. "They're targeting me because I'm Black."
But when the unthinkable happens after a routine procedure and the baby stops breathing with only Ruth in the room, she must decide whether she should ignore her direct supervisor's and the parents' orders or if she should stand back and wait for help to arrive. An emergency has taken the rest of the staff away so Ruth begins to administer care. Unfortunately even with her quick response and the help of the rest of the team who arrives shortly after, Davis passes away. Turk and Brittany blame the one person in the room who they feel shouldn't be there: Ruth. And after saying goodbye to their little boy and being swamped with grief, they set out to make her pay for what they believe is her fault.
'I can't give her our baby. But I can give her the next best thing. Justice.'
Public defender Kennedy McQuarrie handles the arraignment on a multitude of cases at any given time but she knows Ruth's case is something she wants to see through to the end once she speaks with her. Seeing a long-time nurse have her license suspended over being Black and being put in a hopeless situation is wrong. And seeing Ruth charged with murder is unthinkable. Kennedy sets out to prove her client's innocence without playing the race card as she's always been told to do. But the more she observes of Ruth's world and what she must endure on a daily basis, she begins to wonder if she's approaching the case like a coward would or if she truly has her client's best interests at heart.
'I've spent months telling Ruth that a criminal lawsuit is no place to bring up race. If you do, you can't win. But if you don't, there are still costs–because you are perpetuating a flawed system, instead of trying to change it.'
Small Great Things was a powerful, gripping story of racial injustice told from three very different points of view: the nurse accused, the public defender, and the white supremacist father. And let me just that it was an eye-opening experience that will stick with me for a long time.
'People must learn to hate, and if they can learn to hate, they can be taught to love.' –Nelson Mandela, Long Walk to Freedom
Wow. This was my first time reading Picoult's work and what a way to begin, with a book based around such a controversial subject as racism. I know it will be uncomfortable for some readers as they delve into Ruth, Kennedy, and Turk's story. Especially with how emotionally-charged people currently are about this issue. But I think Picoult did a fantastic job painting a picture of each character's life, their views, their background, and even the different options they had (or didn't have) based on race. It felt real and very raw, to the point that I had to cringe a few times with some of the personal experiences the characters had.
As you could expect, my emotions were up and down reading this. I was outraged at what Ruth had to endure in her no-win situation and appalled on her behalf for being seen as incompetent in Turk's eyes because of her race. Watching her struggles and seeing how hard she fought to be heard made me cheer Ruth on that much more. (Can you tell I always root for the underdog?) And Edison, her beloved son, well, I thought he was such an intriguing character. He was on the honor roll, a model student and athlete, and never caused any problems. Until everything happened with Ruth. And, to me, it seemed completely realistic that Edison would lose his way a bit as he was trying to cope with the possibility that his mother might go to jail.
Turk and his wife Brittany's portion of the story was where I was the most conflicted. I have to say that it was rather unnerving to read scenes from the viewpoint of a white supremacist. I won't go into details, but some of what they did, said, and were a part of was tough to handle. But then to see them as new parents and that heartbreaking moment when they lost their son? That was the point at which I could feel compassion for them as well as while Brit and Turk grieved. It was how everything else was handled that made me personally unable to condone their actions.
Kennedy, the public defender, was a strong woman, one who was trying to be the voice of reason. She knew that defending Ruth was the right thing to do but that bringing racism and discrimination into the court room was just not done. I really liked the connection Kennedy made with Ruth, both of them mothers living in basically the same neighborhood, but vastly different in terms of life experiences. She was a great advocate for Ruth and made solid leaps and bounds personally thanks to what she learned from her newfound friend. I also liked that Kennedy and her husband Micah were sort of the comic relief of the story, bringing the mood up a tad with their fun bantering and their wonderful team effort to raise their young daughter Violet.
Simply stunning. Small Great Things had me totally wrapped up, tearing down everything I thought I knew and stood for. This absorbing tale will have readers contemplating their own behavior and actions while still offering a riveting storyline to hold their attention.
Book Info:

 Expected publication: October 11th 2016 | by Ballantine Books |
Ruth Jefferson is a labor and delivery nurse at a Connecticut hospital with more than twenty years' experience. During her shift, Ruth begins a routine checkup on a newborn, only to be told a few minutes later that she's been reassigned to another patient. The parents are white supremacists and don't want Ruth, who is African American, to touch their child. The hospital complies with their request, but the next day, the baby goes into cardiac distress while Ruth is alone in the nursery. Does she obey orders or does she intervene?
Ruth hesitates before performing CPR and, as a result, is charged with a serious crime. Kennedy McQuarrie, a white public defender, takes her case but gives unexpected advice: Kennedy insists that mentioning race in the courtroom is not a winning strategy. Conflicted by Kennedy's counsel, Ruth tries to keep life as normal as possible for her family—especially her teenage son—as the case becomes a media sensation. As the trial moves forward, Ruth and Kennedy must gain each other's trust, and come to see that what they've been taught their whole lives about others—and themselves—might be wrong.
With incredible empathy, intelligence, and candor, Jodi Picoult tackles race, privilege, prejudice, justice, and compassion—and doesn't offer easy answers. Small Great Things is a remarkable achievement from a writer at the top of her game.