33 Valentines by Stephanie Monahan is a quick read with lots of quirky humor and honesty.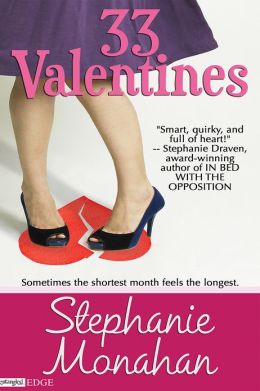 Sophie Parker lives in Boston, working a temp job at a flower shop. She once dreamed of being a singer and pianist but after a series of incidents, all happening in February, she finds herself lost in the day-to-day grind. She also finds herself falling for her longtime best friend Sam McDonald much to her dismay. She doesn't want their relationship to change by admitting her feelings but finds it increasingly difficult to act normally around him.
The curse of February brings about another bunch of bad luck this year: she hurts herself and ends up in the hospital, her apartment has no heat, she feels alienated by her family; and Sam meets the perfect girl…and asks her out on Valentine's Day. The day that Sophie and Sam have shared for years, staying home and watching horror movies to thumb their nose at the "commercialized" holiday. She is unsure what to do and doesn't want to risk their friendship but decides to make her feelings known.
I can relate to Sophie on many levels as I think most of us can. And not just with her frequent use of sarcasm! Since finishing college and moving to the city, she doesn't stay in close contact with her family. She thinks she's not a part of their lives anymore and feels as if they are moving forward while she's lost in the daily grind of work. She wants a meaningful career but doesn't know how to take the first step. And she has the complication of her feelings for Sam.
Friends-to-lovers is an interesting storyline and the author does an excellent job of conveying the range of emotions Sophie goes through. It is done with a raw honesty that I appreciate and hope to see in her future stories as well.
Rating:
Book Info: Publisher: Entangled Edge (January 19, 2013)
All Sophie wants for her thirty-third year is a calendar without a February—and without a Valentine's Day. The unlucky month haunts her with regrets, loss, and missteps she can never take back. But this year, she's determined to make a change— and she's going to start with telling her best friend, Sam, how she feels about him.
But February isn't making it easy for her. Sam's got a date with his dream girl, and Sophie finds herself in the hospital. Then there's her father, who has a surprise that's about to turn her world upside-down, and her little brother, who doesn't seem to have any room for her in his life. While everyone else seems to be living life, Sophie is stuck in neutral.
Now, Sophie must come to terms with everything that's holding her back in order to fight for what she wants before she loses the chance to turn her luck around.