Marriage With Benefits by Kat Cantrell: Dulciana "Cia" Allende has a proposition for real estate broker Lucas Wheeler: become her husband so she can tap into her trust fund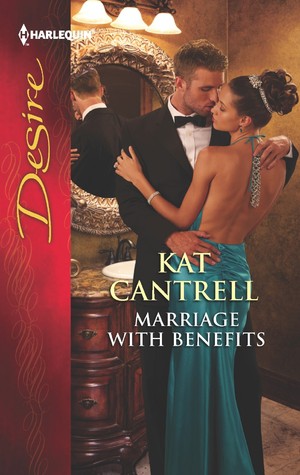 to build a women's shelter and she will make sure his firm is hired to handle her grandfather's substantial real estate dealings. The Texas native is intrigued by her offer but he finds there is one catch: that he must promise to divorce her in six months for her to gain access to the trust fund money due to a stipulation her grandfather made.
What begins as a business deal with signed contracts quickly escalates into an emotional roller coaster for them both. She doesn't want to rely on anyone financially, let alone for her happiness. And he is used to casual relationships with no feelings involved. They struggle to act as a married couple in love in public and to remain "business-like" at home. But when sparks fly in a moment of passion, will they be able to hold up their end of the agreement?
Cia and Lucas are both very passionate characters in their own way. Cia is empathetic and giving to the women at the shelter, but is hard as stone when making a business deal. Lucas is learning to be a shrewd businessman in his family's real estate company but has a carefree attitude toward relationships and life in general. It makes for a very interesting mix when they are thrown together in this situation and the "verbal gymnastics" as the author states is compelling yet comical at times. (The dialogue brings to mind Sam and Diane from Cheers for those of you old enough to remember!) There are a few steamy scenes mixed in that I won't mention in detail but are certainly worth reading as well… Overall this is a very solid story and will hold your interest until the very end.
Rating:
Book Info: Publication Date: February 5, 2013 | Series: Harlequin Desire (Book 2212)
Her Ideal Ex-Husband
"Will you divorce me?" Those are the four little words Cia Allende wants to hear Lucas Wheeler say. Of course, they have to marry first. The gorgeous Texas real estate tycoon shuns commitment, but a six-month fake marriage will help them both. Cia can access her trust fund and build a women's shelter, and Lucas's playboy reputation is repaired. No strings. No romance. Simple.
Except it's anything but. Lucas intends to seduce his in-name-only wife. It's a battle of wills, and Cia is losing…and loving it. And now the divorce she needs is the last thing she wants….