A Baby Between Friends by Kathie DeNosky is an enticing and entertaining friends to lovers story that will capture your heart with its warmth and sensuality. It is the perfect accompaniment to your summer reading list.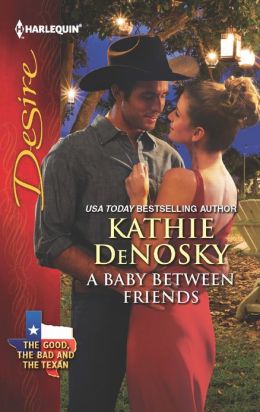 Summer Patterson and Ryder McLain have been best friends for years. Summer has been alone since the death of her parents. She would like to start a family of her own, but doesn't want to have the extra burden of a romantic relationship. She finds it hard to trust men because of a traumatic incident in her past. Summer does have faith in Ryder though and she has decided that he would make the perfect sperm donor for her baby.
Summer is thrilled when Ryder agrees to help her out, but there are conditions to his acceptance. First and foremost, Ryder will only conceive the natural way. After some consideration, Summer decides that she will go along with Ryder's wishes. What neither Summer or Ryder are expecting is to end up falling for each other.
I really liked Summer and Ryder. The chemistry between the two is explosive. Neither one of them are looking for love but it just so happens to find them anyway. I adored how Ryder really wanted to participate as a parent to his unborn child. I admired Summer for wanting to raise a child on her own. I was doing a happy dance when in the end the two get their happily ever after.
Kathy DeNosky has written an exceptionally captivating romance novel that readers will whole heartedly fall in love with. A Baby Between Friends is book two in The Good, The Bad, And The Texan series. I am looking forward to reading book three and I intend to go back and read book one. For a romantic adventure with unforgettable characters, you can't go wrong with A Baby Between Friends.
Book Info
Publication Date: July 1, 2013 | Series: Harlequin Desire (Book 2242)
What Are Best Friends For?
More than anything, Summer Patterson wants a baby. What she doesn't want is a husband. Thankfully, her best friend, Ryder McClain, makes the perfect sperm donor. Ryder is loyal, undeniably sexy and the one man she trusts—the only reason she agrees to conceive their baby naturally.
When baby-making nights with Summer blaze like the West Texas sun, Ryder feels the heat. He never expected Summer to say yes to sharing his bed. Now he's falling for her—and the prospect of fatherhood—while hiding a secret that could destroy her faith in him forever.