Forbidden Fires is book 3 in the Bondage & Breakfast series by Jodie Griffin, but I didn't feel like I was missing anything. In fact, I didn't even realize that it was part of a series until I was looking around on the interwebs for more information on the book! And let me tell you: Forbidden Fires is a GREAT title for this book! Phew!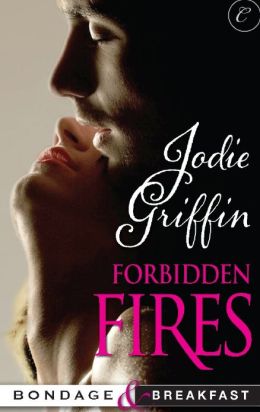 Delia is a police officer in the Boston area. And she's a damn good one. So it isn't a huge surprise when her assistance is requested on a case coming from the Fire Marshall's office. What surprises Delia is WHO requests her assistance. It's Colin, the Fire Marshall himself, who Delia was romantically involved with the previous year. They broke up but neither of them has been able to move on. Delia is great. I love a tough heroine and Delia certainly fills the bill! She's brave and strong and has a bit of a temper. I really like that because it can be fun to see the heroine tear the hero a new ass! LOL!
I couldn't help but love Colin too! Delia may have her temper but Colin just can't seem to keep his mouth shut around her!! He's always got a smartass comment on the tip of his tongue. And even when it would be WAY smarter to keep those comments to himself, he just lets them fly. I swear, it was like he physically could not hold them in! The best part about Colin is that he regrets having let Delia walk out of his life. Maybe if he had tried harder to keep her, she might have stayed around and she might not have, but Colin misses her. She's a great investigator and he'd want her on ANY case but the fact that he enjoys her company and missed her is an extra added bonus.
In case you haven't read the blurb, you should know that this is a BDSM novel (with emphasis on Dom/sub). You should also know that this is a seriously hot novel! But if you haven't read much BDSM erotica, don't be afraid! Delia and Colin are new to it as well. So you'll be experiencing your first Dom/sub scene along with them. Although Delia and Colin are combustible together, the author doesn't hit you over the head with the eroticism. The crazier, more intense scenes are taken really slow which also makes the hot stuff hotter since it feels more like a slow burn rather than a quick flame out.
I really enjoyed this novel! It's got some laughs and some mystery and a lot of hot sexiness!! I think anyone who is interested in erotica would enjoy this book because the author guides you through the Dom/sub relationship in a way that makes sense and helps you to identify with the characters. Even if you're on the fence about this subject, this would be a great book to find out if you DO like it. I really think this book has a little bit of something for everyone and I would highly recommend this book!
Book Info
Publisher:
 Carina Press Publication Date: April 1, 2013
Book three of Bondage & Breakfast
A year ago, Detective Delia Robinson and Fire Marshal Colin Butler got up close and personal while working a case. But their sizzling relationship didn't last. Now there's a serial arsonist on the loose, and it's up to Delia and Colin to bring him down—if they can resist their attraction long enough to concentrate on the investigation.
Delia quickly sees the connection between the crime scenes: elements of BDSM. Though she denies it, Colin is stunned by the realization that his former lover is aroused by the idea of bondage play. And suddenly he can't stop fantasizing about being the one to bind her…
Unsure how Colin would react, Delia never revealed her desire to be dominated in the bedroom. But she'll finally have the chance to find out when they go deep undercover—as a married couple at a B&B offering classes in domination and submission…
Look for Forbidden Fantasies and Forbidden Desires, available now.
52,000 words