A Charm Like You (Charmed in Texas #5) by Sharla Lovelace: Recently divorced Gabi Graham takes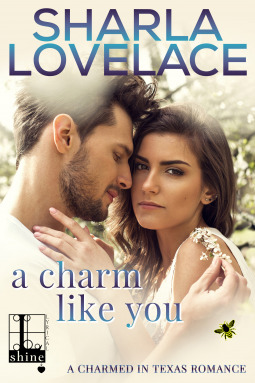 her mother's advice and heads out to attend a support group for divorced people. The drive to Denning isn't long but Gabi sure wasn't going to attend such a meeting in her home town of Charmed, Texas. Imagine the gossip! Gabi isn't sure this is such a good idea but it's better than murdering her ex-husband. Gotta get the anger out somehow so this meeting could be the answer. "Okay. Just go in and get it over with" she thinks to herself. Moving towards the door… But what's this? Or rather who's this? It's six feet of smokin' hot man! "Nope. Not going there. Off men for good, except for sex. Hmm…. That might work" Gabi and "Hot Guy" enter the meeting together. The lady passing out name tags reminds them to not use their real names so she suggests Lois Lane for Gabi and Clark Kent for "Hot Guy" Is he Superman in disguise? Whew! How was she going to fight this attraction?
That's how Gabi and Thatcher meet – at a support group for divorced people. No real names given. Much to their surprise it was the very next day when they found out they were business partners and he, Thatcher Roman, is the brother of her best friend. This is a really bad idea. But neither can resist the attraction.
Sharla Lovelace has a real winner in her book, A Charm Like You. She makes a meeting by two unhappy people come alive as they get to know each other, help each other overcome some emotional distress and come to realize there can be a "Happily Ever After." I love both of these characters. I felt for them. I cheered them on. They made me feel good when they threw off their unhappy pasts and moved on to true happiness. This was a fun, yet emotional read. Sharla Lovelace has moved on to my "must read" author list.
Book Info:

Publication: December 25th 2018 | Lyrical Shine | Charmed in Texas #5
Even in a quirky small town like Charmed, Texas, there's always room for love to take you by surprise . . .
Gabi Graham might have hit the proverbial rock in rock-bottom. Hitting the single scene after ten years is hard enough. Finding out that her cheating ex-husband and his new barely-legal fiancée are expecting—that's enough to drive Gabi over the edge and into a neighboring town's divorce support group. It's not really her thing to listen to anonymous strangers bash their exes, but at least there are cookies. And a sexy fellow newcomer who ignites her long-dormant libido. Spending a few lustful, post-meeting moments in Hot Guy's truck can't hurt. Unless, of course, Hot Guy turns out to be Thatcher Roman—her best friend's brother and Gabi's silent business partner.
Thatcher had no idea that the wildflower farm owner he's been doing business with over email is the nameless woman who's barreled into his life and his fantasies. He and Gabi have a new venture to run, a sister and best friend in the middle, and enough sparks between them to light up the entire town of Charmed. Given her past, it's no wonder smart, gorgeous Gabi has trust issues. But maybe what they've found is more than just coincidence and chemistry. It might even be the beginning of one sweet, amazing second chance . . .