A Christmas Proposal by Linda Warren  had everything I enjoy: a small town setting, a sweet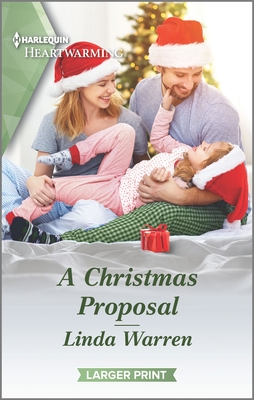 romance and Christmas joy.
Bo Goodnight works on a SWAT team in Austin, Texas. He is excellent at his job and so driven his boss tells him he HAS to take a one week vacation. He decides he will go home to his hometown of Horseshoe since he calls his mother often, but doesn't visit near enough. It happens that his former girlfriend, who lived across the street as they grew up, is visiting her father at the same time. She appears to have a little girl with her.
Bo had a difficult childhood with father who drank and was a womanizer. Bo and his sister never understood why their mother took their father back so many times before she finally divorced him. Bo had enough and right after he graduated high, he left to join the Army. He didn't really think how it would affect Becky Tullous, his girlfriend. After a bucket of tears, Becky decides she will never forgive Bo.
Becky had moved on with her life. She had a short, disastrous marriage, but managed to earn a degree as a physician's assistant. She has a four year old daughter who no one is really sure of the father. Her daughter has some developmental delays due to the fact she was a preemie. Some things will just take time, but Becky is very frustrated with Luci's unwillingness to work on her speech issues.
Bo meets Luci who is desperate to find someone to play with. In the course of their time together, he is able to get Luci to improve her speech patterns and get her to work better with the therapist. Luci quickly forms a relationship with Bo, but can Becky ever forgive him and move on?
Stories of second chances are some of my favorites. The author slowly peals away the past of Bo and Becky and the reader comes to understand how much that has colored the present. Bo may have an alpha male style job, but early on in the story his tender nature is shown. Becky has always been one who cares and goes into a field where she can try to prevent women from suffering the same fate as her late mother.
Early on, it's easy to see Bo's father as the villain of the piece. Author Linda Warren does a masterful job on his backstory that helped me have some more empathy.
Bo's grandmother lends some humor to the story. I hope I never have to go to assisted living, but, if so, I want a friend like her.
Linda Warren was a new to me author. She has been very prolific and popular. I wish her continued success and look forward to reading more of her novels in the future.
Book Info:

Publication: December 15, 2020 | Harlequin Heartwarming | Texas Rebels #10
A child's Christmas wish…
Gives love a second chance
Becky Tullous has never forgiven boy-next-door Bo Goodnight for breaking her teenage heart. Now the SWAT sergeant is back in Horseshoe, Texas, and getting far too attached to her three-year-old daughter. Becky never wanted Bo in Luci's life, but her developmentally delayed little girl is making great progress with him around. Will Bo prove he's worth a second chance this Christmas?