A Christmas Proposition by Jessica Lemmon is the third story in her Dallas Billionaires Club series, about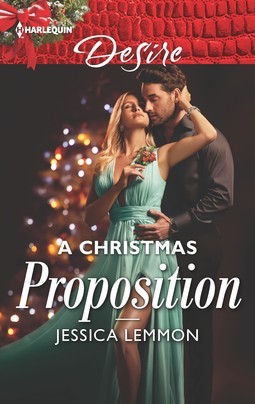 a powerful Texas family, the Fergusons. The first two stories dealt with the two brothers and their complicated love lives, but I'll be honest, I've been waiting for their sister Stefanie to get her happy ending and I'm happy to say that this one worked on all counts for me!
Stefanie Ferguson has the knack of getting into scrapes and needing a bit of a rescue, much to her chagrin. As luck would have it, an ex-hookup is trying to make trouble for her brother Chase's mayoral campaign. When her sister-in-law Penelope, a PR expert suggests that for any other client she'd arrange a quickie marriage to quell rumors of any imminent reunion with the troublemaker, Stefanie takes her words to heart. But only one name as a possible husband comes to mind – her brother's head of security and best friend, Emmett Keaton.
When Emmett offers to drive Stefanie to what's supposed to be a girl's weekend away to help fend off any paparazzi, he never expects her to propose! But Stefanie thinks Emmett would be the perfect choice to play the part of her husband for a few months. They get along (sort of) and he's always been protective of her, plus he has his own money and would keep her confidences. As it turns out, Stefanie is really arranging a Christmas charity dinner for those less fortunate in a town Emmett is intimately familiar with – his own, and unbeknownst to Stefanie he'd have been on the receiving end of exactly that type of dinner in his childhood days. They are from very different worlds, even if he has made a successful career for himself now. But the sparks of attraction lead them to wonder – can their marriage come with a happy ever after?
I loved the finale to this series! There've been hints in the previous stories that the annoyance between Emmett and Stefanie was really covering up their attraction to each other. It just needed the right venue to come out into the open. Stefanie may appear to the public as a shallow society girl but in reality she is determined to use her fortune to make lives better for others, and also not to coast on the Ferguson family name. It's why she's set up the charity dinner event under a pseudonym so that her good works remain anonymous, at least until her plans to make things bigger and better will benefit from her name.
While Emmett and Stefanie are quick to enjoy the fruits of their married labor in some sexy scenes, the idea of making this a long term relationship has some pitfalls. Most come from Emmett's side and his belief that his poor upbringing makes him no good as a real match for Stefanie. Stefanie's family also isn't too keen on their quickie marriage, made complicated by the fact that Stefanie doesn't want to reveal to them that it's a marriage of convenience – she'd rather they believe that she and Emmett were overcome by their feelings for each other while out of town and had a romantic Christmas Eve wedding, and not that it's all part of a plot to save her brother's political future. Once she and Emmett start to communicate about the things that really matter though, they see their way through to a happy ending and what will be a loving marriage after all. I highly recommend all the stories in this series! Jessica Lemmon writes engaging and sexy romances full of humour and heart.
Book Info:

Publication: Dec 01, 2018 | Harlequin Desire | Dallas Billionaire's Club #3
"I need to get married…
And the only one who can help me is you ."
Trading one scandal for another, Stefanie Ferguson must marry to save her brother's political career. Luckily, her brother's best friend wants to help. But until this moment, Emmett Keaton has been off-limits. Now their convenient vows on Christmas Day unleash a passion too long denied. Will this marriage for scandal become a marriage for real?