In A Game of Chance by Emma Shortt, Jack Richards is determined to get to the bottom of what's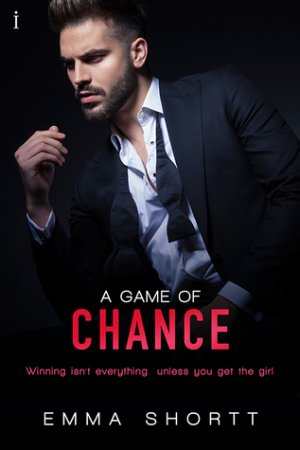 going on with his company since it seems his tech company is benefitting from other's people ideas. However, when he discovers the enigmatic Meg Marlowe has broken into his company's headquarters, he figures teaming up with her would be best, especially when her work is one that's been stolen. Except hiding his true identity is the only way he believes they'll be able to get to the bottom of what's going on. Yet, when the truth comes out, will Meg be able to handle the truth or will she walk away from her shot at happy ever after because she can't trust Jack?
"You'll be careful, right?"
Meg nodded. "Stealth. That's my middle name."
"And you're only going to do what we discussed," Kate continued. "You're not going to do anything silly?"
"When do I ever do anything silly?"
Kate rolled her eyes. "Hourly. Daily. All the time."
This is the first book I've read by Ms. Shortt and I've got to say that it was a compelling, well-written and fast-paced read that I could not put down because it encompasses two very interesting main characters that are determined to get to the bottom of stolen research; wonderful dialogue that had me wanting to know who is the person responsible for Jack's tech company making money off other people's research; and a fast-paced plot that offered plenty of obstacles for the main characters to overcome including whether the heroine can trust Jack and whether she'll be able to accept the truth. Will Meg be able to handle the outcome of what they discover?
The way this story started had me liking the heroine immediately, as she's one determined woman. Except things don't exactly work out like she hopes and she could be in big trouble. Will she be able to convince Jack that what she's up to is honorable since she's fighting to uncover who stole her research? Moreover, the main characters are well-developed with intense back stories and I loved the obstacles these two faced to be together including whether they can trust each other and whether the hero can win the heroine's heart after what they discover that makes the heroine feel betrayed. Will the heroine realize that the hero didn't mean to hurt anyone, especially on top of the secret he's already keeping?
"I know who you are," Kate said, her smile widening. "This is so embarrassing. I'm totally fan-girling, but you're Jack Richards, and it sounds like you're a total jerk, but you're Jack Richards."
A pained sort of look flashed across Chance's face. Meg watched it with a reluctant fascination. "You get this a lot?" she asked.
He shrugged. "Less than I used to."
"The beard?"
"The guns too."
With the heroine, she's resilient; courageous; sassy; prone to doing silly things, which is proven in the moment she comes face-to-face with the hero for the first time; and I liked that she didn't make things easy for the hero because she knows he's hiding something. I also liked the tight friendship she has with her best friend because she needs every bit of advice the woman gives her. Since relationships can be tough, especially with the obstacles these two face. While the hero, he's been through a lot in his life and it's understandable why he's changed so much since his younger years. Otherwise, he never would have got a moment's peace because of how successful his company is. I also liked the hero's confidence, his determination to win the heroine over because he needs her help and the challenges the hero faces when it comes to his company and what's going on. He needs to know what's going on, but discovering the truth isn't as easy as he thought it would be considering he's such a genius when it comes to technology.
Overall, Ms. Shortt has delivered a wonderful read in this book that had me smiling several times throughout because of the playful interactions between the hero and heroine and the hero's nickname for her; and where the chemistry between this couple was strong; the romance was delightful and had me loving these two together; and the ending had me loving the hero's determination to make things right with the heroine. Certainly, he has a great offer for her where she can test her smarts. However, it was the epilogue that wrapped this story up nicely, as Meg certainly tries in everything she does, even if things don't always work out like she hopes. Luckily, the hero is always willing to come to her rescue if she needs it. I would recommend A Game of Chance by Emma Shortt, if you enjoy the enemy to lovers trope, the mistaken identity trope or books by authors Victoria Davies, Kira Archer, Regina Kyle and Cathryn Fox.
Book Info:

Publication: October 8th, 2018 | Entangled Publishing |
Jack Richards made his first million when he was a nerdy teen. Now, he stays out of the limelight by using an alias, Jack Chance. As CEO of a billion-dollar tech company, Jack thought he had everything he wanted. Until she came storming into his office. With her electric blue hair and voluptuous curves, Meg Marlowe's a video game fantasy come to life.
Computer genius Meg is convinced that X-Tech has stolen her work and she breaks into its headquarters to confront her idol, billionaire Jack Richards. Who she finds instead, is Jack Chance—all bulging muscles and hard planes, he couldn't be further from the nerd CEO she expected. A misconception that Jack is happy to go along with.
Their attraction is instant, sizzling, electric…and Meg feels like she knows this guy, though she's only just met him. But all is not what it seems at X-Tech and that, coupled with Jack's lie, sends their red-hot relationship, and possibly his company, into a wormhole of doom. But in the game of love, he plays to win.