A Christmas Seduction b y Daire St. Denis: Spending her Christmas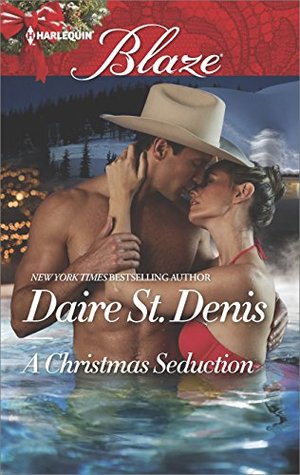 and New Years at a Montana ranch getaway, Jolie couldn't be happier to discover what an actual Christmas is like; her family having refused to partake in the celebration aspect of the holiday. To make this year's holiday even better, her attraction to Thad, a worker on the ranch, is out of this world, and their fling is hot and heavy.
As much as Thad desires Jolie, he's got a past back in New Orleans, a dangerous one, that means he can't get close to Jolie. But for while she's staying, he can't resist her either, spending every night with her and even waking up with her every day.
But as truths comes out, it means both the loss of the man she was falling for and the big break in the journalism character she so desperately desires.
The passion between Jolie and Thad is definitely sexy and passionate. They cannot get enough of one another, and I always love that in a romance. Jolie was a good mix of confidence, realistic insecurity, and passion. I liked Thad a bit less since there just didn't seem much to him beyond Jolie's attraction.
I do feel A Christmas Seduction was a bit absurd with its plot. It felt like the author inserted a lot of random tropes, and the final conflict itself, while properly led up to, felt overdone and kind of silly. I just had a hard time believing it and being interested. Plus, it created a weird mash of story that didn't fit well enough together.
Short and easy, for those who like a Christmas read with definitely high passion, I recommend A Christmas Seduction.
Book Info:

Publication: November 22, 2016 | Harlequin Blaze |
Her first real Christmas
Her first real cowboy…
Journalist Jolie Duval has escaped her killjoy family in order to enjoy a real down-home Christmas in Montana. Hello to mountains, snow, carols, delicious cookies and…whoa, one seriously hot hunk of a cowboy. Since Jo's experiencing the whole Christmas fantasy anyway, why can't she have a red-hot holiday fling? Thank you, Santa.
Thaddeus Knight is definitely the best gift Jo has ever unwrapped. Their sexual chemistry is more intense than anything she's ever experienced. This cowboy knows when to be a gentleman—and when not to be a gentleman. But then Jo stumbles upon Thad's troubled past and his deep, dark secret. Is this man the love of her life…or the subject of the biggest story of her career?