In Dirty Like Me (Dirty #1) by Jaine Diamond, the name Jesse Mayes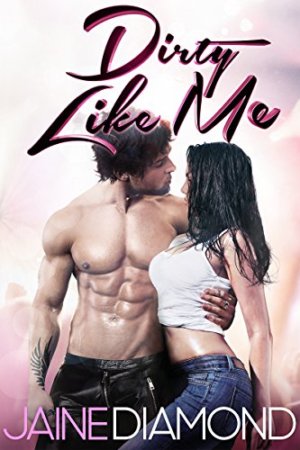 doesn't mean a thing to Katie Bloom, even though he's a music sensation adored by thousands of fans. Unfortunately, she isn't one of them until she finds herself forced into an uncomfortable situation of playing a sex kitten in his newest music video. Good thing that when it's all over they'll be able to go their separate ways. Except Jesse isn't about to let her disappear from his life, and instead, makes her an offer she finds is hard to refuse.
The Ferrari roared to life and we pulled out into the street. "Can't a guy hit on his own girlfriend?" He asked, all filthy innocence.
"I'm not your girlfriend."
"You are tonight, sweetheart. What I'm paying you for, right?"
"Paying me?"
"That's the deal. Two hundred grand for the next six weeks."
From start to finish, this story totally blew me away with its fast-paced and entertaining plot, incredible characters that had plenty of chemistry, and an ending that had me wanting more of this series and author. The way this story began opened this story perfectly with the way the heroine meets the hero. Her dog's entrance into a place he shouldn't be places her in a very embarrassing situation. Yet, even worse is the state of her clothes that it's no wonder the hero only has eyes for her.
As for the dialogue, I loved every word of it. The characters back stories; especially that of the heroine together with the playful dialogue between this pair had me hooked. The heroine has been through so much. Her confidence shaken when it comes to men and her love for art, and Jesse is good for her. He shows her that she shouldn't allow her past to affect her as much as it has and that there are still decent men in the world. His teasing banter certainly allows her to open up to him when she's ready, and one of the best moments is when they're playing a game while travelling from one city to the next for Jesse's concerts. As some of the categories picked for the road game allows them to open up about things they liked and things they wanted in life.
"You keep drinking, babe, we'll make it a drinking game. But the only road game I remember is Top Five. Got into a lot of fights over it."
"Oh yeah?"
"Oh yeah. Bad words were said. Drinks were thrown. It was ugly."
"Sounds awesome."
"It's not for the faint of heart."
"Teach me."
"Okay. It's easy. I just give you a topic and you say the top five things in that category."
Both the main and secondary characters were highly entertaining. Zane, one of the secondary characters, was a real hoot. He's a total charmer, and the way he flirts with Katie in front of the hero had me laughing at his antics. He'd do anything to rile his friend and make him realize how important Katie is becoming to him. Then there's the men that guard her and Maggie, the assistant to Jesse's manager. They're a godsend for the heroine; protecting her from any threats and giving her advice that help her in deciding what the right decisions are for her when it comes to her growing relationship with Jesse.
Katie is strong, brave, and I liked how she dealt with everything thrown her way. Jesse's jealous ex, the negative publicity, believing Jesse may be cheating on her and her decision to change the rules when it came to her growing relationship with the hero. Should their relationship remain platonic or should they explore their chemistry? Why is she letting her previous relationship and the way her ex treated her keep get in the way of being with another man? While Jesse, he's confident, protective and I liked how determined he was to win Katie's heart. She's different from the women he normally goes for, and I liked that she found a way to get him to open up about his past because he needs to in order to be happy with Katie. Also, Jesse is a really good brother and I loved that he would do anything for his sister.
Overall, this was an incredible read where the sex scenes were hot and illustrated the intense chemistry between this couple nicely. Katie doesn't know whether she can trust another man again after what her ex did, but I liked that she was willing to try because Jesse is different. Even though he's a rock star and could have any woman he wants, he makes Katie feel special.
The way this story ended had me cheering for this couple's happy ever after. Will Katie be able to overcome her fear of being in the public eye no matter if the publicity she's receiving is negative or positive, if she wants to be Jesse's girl forever? Moreover, I liked what both Jesse and Katie were willing to do to help the other with their families. In fighting for Katie's dreams and hopefully helping Jesse's sister come back and be amongst those that love her. I would highly recommend Dirty Like Me, especially if you enjoy the fake relationship trope.
Book Info:

Publication: November 2nd, 2016 | DreamWarp Books | Dirty #1
A gorgeous rock star.
An indecent proposal.
How can a girl resist?
Struggling barista Katie Bloom doesn't even know who Jesse Mayes is until she inadvertently wins the coveted role of sex kitten in his hot new music video. But by the time she's in bed with him, she knows his reputation.
Love maker. Heartbreaker.
Making out with a stranger in front of a camera crew isn't how Katie imagined herself getting over a broken heart, but when Jesse touches her, sparks fly. The sex is fake but the chemistry is real, and soon the steamy video is blazing up the charts.
Then Jesse makes Katie an irresistible offer: act as his girlfriend for six weeks while he promotes his new album. The only catch? Their sizzling make-out sessions will be for the cameras only.
Which is fine with Katie, since she's not about to trust her heart to rock's most legendary lover. Her body? Maybe…