A Cowboy and A Promise by Pam Crooks: Ava Howell has lost one of her best friends to cancer. She made a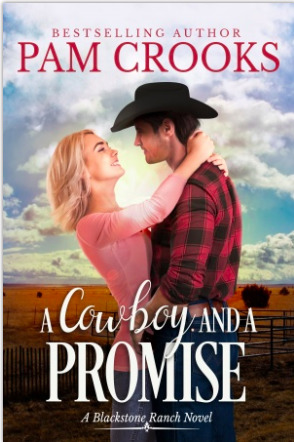 promise to her friend, Erin to finish the renovation of a ghost town being turned into a destination resort on the property owned by Erin's aunt and uncle in Texas.
Ava travels from New York City to Texas with hopes of fulfilling her promise to Erin and returning to her concrete jungle home in New York City as quickly as she can. Somehow the wide open spaces, the friendly people and especially cowboy Beau Paxton make Ava think that Texas may be where she really belongs. But how can she leave her mentor and boss and the career in construction management in New York she has worked so hard to establish?
Beau Paxton is a former Special Forces soldier who has returned home to his beloved family ranch, a welcome respite from the ugliness of war. He was promised 300 acres that encompassed the ghost town on the family ranch where he planned to build a home and enjoy a family but his mother now has other ideas about "his" section of the ranch and wants to turn the old abandoned mining town into a resort. Yes, Beau was granted a different section of the ranch but he, his two brothers and his father think this resort idea is a bad idea. Can his mother and Ava convince him otherwise?
A Cowboy and a Promise by Pam Crooks is the first book in her new Blackstone Ranch series. In this story city girl meets cowboy and sparks fly. I liked how the author kept the attraction between Ava and Beau moving along despite how hard they fought it. This is a good beginning to what I believe will be a very enjoyable series.
Book Info:

Publication: January 24th 2019 | Tule Publishing | Blackstone Ranch
Her determination fuels his desire
When her dying friend pleads for help to finish a renovation project, Ava Howell can't refuse, even though her promise means leaving her new career and familiar life in New York to travel to a remote ranch in Texas. She's good at what she does, and the ghost town vacation resort would look great on her resume, but it means tangling with the ex-military cowboy who is determined to stop her as soon as she arrives.
Beau Paxton needs to sell the land and ghost town to save his family's struggling ranch. He's a formidable enemy to Ava's determination, but the harder she works, the more his attraction for her grows. He doesn't want to set aside his plans so she can succeed at hers, yet he finds himself doing just that…
Will a promise bring a city girl and a sexy cowboy together? Or will a broken one drive them apart?